Wildfires
Paul Joseph Watson
YouTube
Tue, 07 Jan 2020 22:16 UTC
---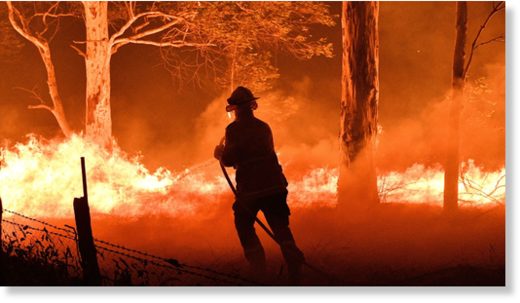 Over 10 million hectares of Australia have burned, including much crop and ranch land. "The wildfires will get worse, and they will make believers out of you climate deniers!" The establishment is keeping Jerry Brown's promise, burning over 10 million hectares of Australia, and screaming "Global warming!" ... while dealing a massive blow to global food production and the world's #3 beef exporter.
Sources
---
Lucy Mae Beers and David Barden
7NEWS.com.au
Fri, 03 Jan 2020 01:12 UTC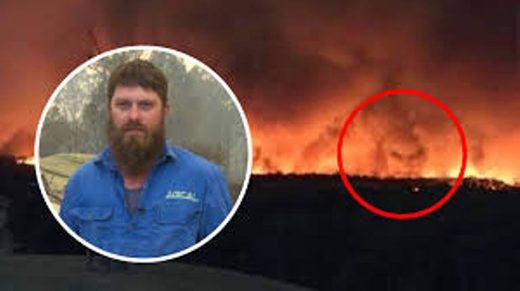 Devastated dairy farmer Craig Calvert, who spent 13 hours fighting fires threatening his property in Victoria, has shared an eerie image of the blaze which depicts "a big devil face" in the billowing smoke.
"I'm not really into hokey pokey spooky stuff but there's a big devil face right in the fire," he told
Sunrise
on Friday.
"It's just ridiculous, you won't believe, I don't believe it."
Calvert, from Sarsfield, has "extensive fire experience" and "knew it was going to be bad" when fires approached his property earlier this week.
"We had fireballs coming over, jumping. Some of them were 50 metres to 100 metres across," Calvert told
Sunrise
.
"It didn't even burn the trees. It was burning the gas on top of the trees - It was almost like white flame."
---
We've been hearing much fake news about the Australian bush fires supposedly having been caused by man-made climate change. Yet it has emerged that Australian authorities were warned years ago that poor land management practices were in fact escalating the risk of devastating fires, according to an expert.
Forest fuel level highest in 1000 years
In 2015,
bush fire scientist David Packham warned
of a "huge blaze threat" and urged an "increase in fuel reduction burns".
"Forest fuel levels had climbed to their most dangerous level in thousands of years,"
wrote Darren Gray here
in 2015. Today the public is being misled by climate alarmists and the media on the real causes of the devastating bush fires now taking place.
In fact NASA data shows that the area burned by global wildfires dropped by 25% since 2003, according to the
Global Warming Policy Forum (GWPF)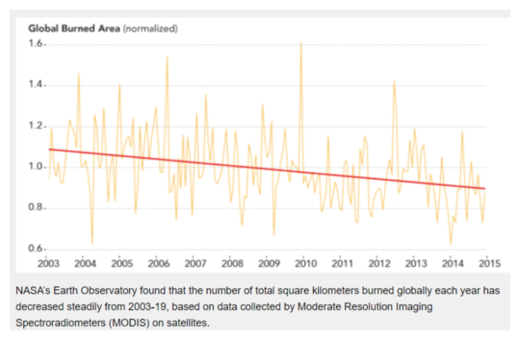 ---
Paul Joseph Watson
Summit News
Fri, 03 Jan 2020 20:23 UTC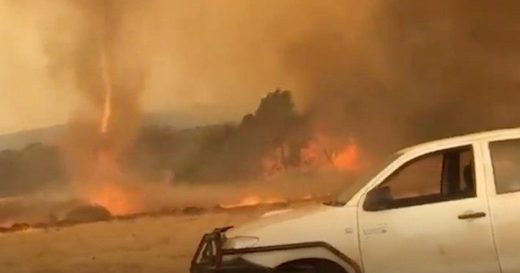 Authorities in Australia are working on the premise that arsonists and lightning strikes are to blame for bushfires that have devastated numerous areas of the country, not "climate change" as many global warming alarmists have claimed.
Since November, the fires have struck various regions of the state of New South Wales, destroying thousands of buildings and killing at least 22 people.
Despite the fact that
bushfires are not uncommon in Australia,
the severity of the damage led numerous climate change alarmists to blame the disaster on man-made global warming.
Comment:
Common sense. The Aborigine populations knew this, and conducted yearly
rotating burns
of their hunting grounds to keep fuel from accumulating and to attract game to the new vegetation.
---
Ben Smee and Luke Henriques-Gomes
The Guardian
Thu, 02 Jan 2020 19:20 UTC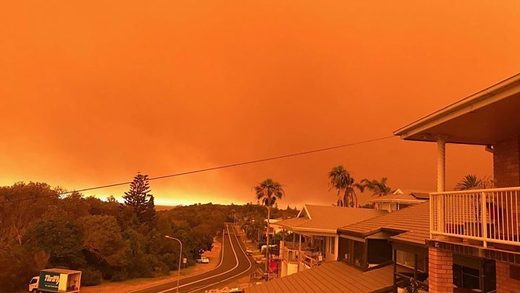 Visitors who were told to evacuate a vast area along the NSW south coast before even worse fire conditions return stuck for hours in gridlocked traffic
Tens of thousands of people remained stranded on Thursday evening while attempting to flee bushfire-ravaged areas of the south-east Australian coast - having earlier been urged to leave before the return of extreme and dangerous weather conditions.
The mass evacuation of communities in New South Wales and Victoria is among the largest ever emergency movements of people in Australia.
The numbers fleeing the bushfire crisis remain unclear, but are expected to compare to the 60,000 people who were flown out of Darwin after Cyclone Tracy in 1974.
Visitors told to flee a vast evacuation area along the NSW south coast reported sitting in gridlock for up to 10 hours after responding to the order to evacuate, as further outbreaks of fire and sheer weight of traffic blocked escape routes north of Ulladulla and near Cooma in the Snowy Mountains.
Comment:
RT
adds more
on Morrison's tone-deaf PR swing through one ravaged area:
The official started his visit to Cobargo walking up to a local woman, casually asking "How are you?" and then forcing her into a handshake - and that was when all the PR stunt flopped.

"I'm only shaking your hand if you give more funding to our RFS [Rural Fire Service]," the visibly reluctant woman told the PM.


Morrison was promptly swarmed by locals afterwards, who asked him a bunch of quite reasonable questions about very low number of fire engines that responded to the fires, lack of relief and so on - that he did not answer, however.


The PM aimlessly roamed the street with a bunch of other officials, including the natural disasters minister David Littleproud - and their silence only angered the locals further. One man urged the official to get out of town, telling him that his electoral prospects now look quite bleak in a profanity-laden rant.

"You're an idiot, mate. You really are. You won't be getting any votes down here buddy... No liberal votes. You're out son. You are out. Goodnight Vienna. Bye. Go on, p**s off."

Pelted with further questions about those who died in the fires and the many who've lost their homes, the officials ultimately retreated to their car - without so much as a goodbye.
---
RT
Thu, 02 Jan 2020 11:10 UTC

Comment: It's 'climate change', sure, but there's nothing your govts can do to stop it...

At least they've found a productive use for the military.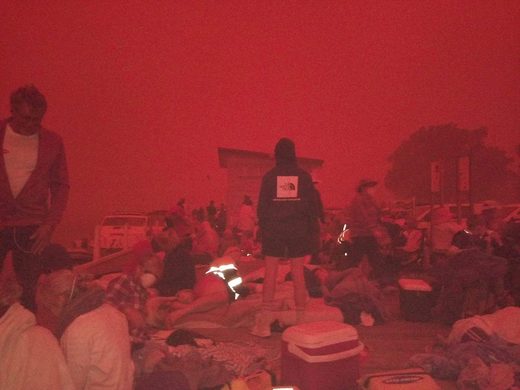 Plans to evacuate thousands of stranded residents from fire-ravaged communities in Victoria are underway; Australian navy ships are anchored offshore as air force vehicles brave the acrid smoke to evacuate the sick and elderly.
At least 18 people have died throughout the current bushfire season in Australia. Eight of the victims perished in the country's southeast on New Year's Eve, while 17 people remain unaccounted-for in Victoria State
.
New South Wales Premier Gladys Berejiklian has declared a seven-day state of emergency and the fire service have created a
roughly 200km-long
"tourist leave zone."
Comment:
Videos are emerging of the destruction some of these wildfires left in their wake:
What else is known, so far (
summary courtesy of
The Guardian
):
The NSW government declared its third state of emergency, beginning on Saturday and running for seven days
The Australian Capital Territory has declared a state of alert
There are extraordinary delays and traffic jams on the roads out of South Coast regions, after authorities told all tourists and some residents to leave areas today and tomorrow
There are now four 'leave zones for tourists' and/or residents in Snowy Monaro, Shoalhaven, Batlow/Wondalga, and South coast
Evacuation orders were made for Kosciusko National Park, where the Dunns Road fire is taking hold
Exits were hampered by high crowds, road closures, and fuel shortages
Some service stations ran out, while others limited people to 50L of gas
Victorian authorities also urged people to leave the alpine and East Gippsland regions before the weekend
There is a total fire ban for NSW on Friday and Saturday
The Choulas Navy ship can take 500-1,000 people, but they will have to climb up a rope ladder to get aboard
Limited evacuations by air will be organised for elderly and infirm people
The conditions are predicted to be extreme in South Australia on Friday, with temperatures in Adelaide of 42C and 45C in the regions
Fire chief Mark Jones said the concern was already existing fires. "There are millions of sparks out there ready to go tomorrow if they break containment lines."
The prime minister of Australia, Scott Morrison, attended the funeral of firefighter Geoffrey Keaton, who died in December while fighting the Green Wattle Creek blaze
Some $21m in commonwealth disaster payments has so far been paid to fire victims in NSW
Is this scale of disaster-by-wildfire 'unprecedented' for Australia?
Update 19:00 CET
PM Scott Morrison has been visiting townships to 'lend his support'. It's not going too well...
---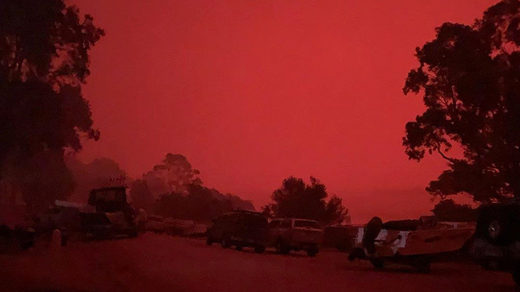 Thousands of people have been forced onto the beaches in Australia as massive bushfires hit popular holiday resort towns.
Holidaymakers have fled into the water as the blaze moved into the Victorian town of Mallacoota in New South Wales on Tuesday morning.
Wildfires are now burning across the country's two most-populated states in what has been described as "apocalyptic" scenes.
Two are now confirmed to have died with five others still missing and feared dead with "significant losses" to property.
---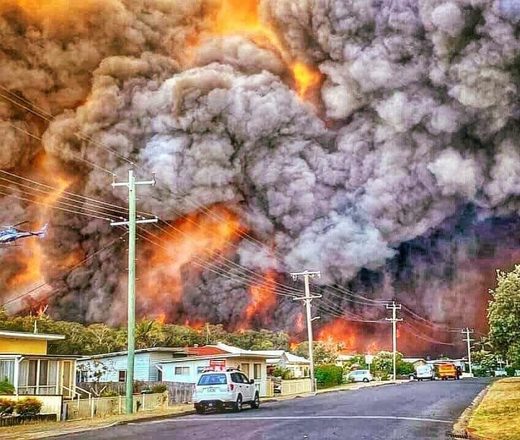 With all the talk of droughts and fires sweeping the Southern Hemisphere I found a connection to solar activity and drought cycles, which are with wildfire cycles. The connections between Southern Africa and Australia look as if its solar driven the changes. I will let you decide. Do you think this information is on the right track?
---
Helen Regan
CNN
Wed, 25 Dec 2019 20:07 UTC

Comment: Again!? Valparaiso has been hit by major wildfires for the fourth time in just 5 years...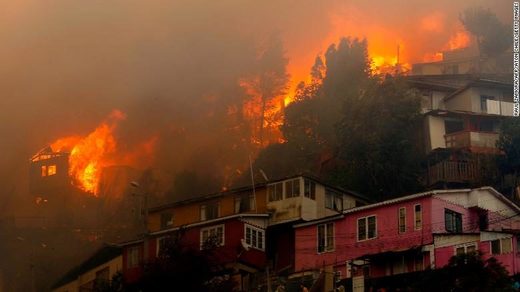 At least 200 homes have been destroyed after forest fires swept through a residential area in the Chilean port city of Valparaiso on Christmas Eve.
Hundreds of firefighters struggled to control the fast-moving blaze, which continued into Christmas Day and was made worse by dry weather and strong winds. Military units and helicopters were deployed to help battle the flames and residents were evacuated to shelters.
The government regional leader of Valparaiso Jorge Martinez Duran said in a news conference on Wednesday that it is believed the fires were started intentionally.
Chilean Interior Minister Gonzalo Blumel said in a
post on Twitter
that authorities were working to investigate and "there will be no impunity" for those found responsible. Images show dozens of houses completely destroyed by the flames and residents tried to salvage any belongings.
---