Firefighters in Northern California battled more than a thousand wildfires to a stalemate by Sunday, but forecasters said dangerous conditions would not relent anytime soon.
No new major fires had broken out Sunday as fire crews inched closer to getting some of the largest blazes surrounded, according to the state Office of Emergency Services.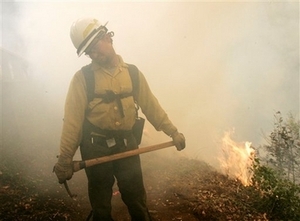 ©AP Photo/Marcio Jose Sanchez
Brandon Hoefs, of Nebraska, a member of the Mid Plains Interagency fire crew, turns away from a wildfire as it nears the deck of a home on Partington Ridge Rd. south of Big Sur, Calif., Friday, June 27, 2008. Fire crews continue to fight the Basin Complex fire, which is burning in the Los Padres National Forest near the coastal town of Big Sur.
But a "red flag warning" - meaning the most extreme fire danger - was still in effect for Northern California until 5 a.m. Monday. And the coming days and months are expected to bring little relief.
Forecasters predicted more thunderstorms and dry lightning through the weekend, similar to the ones that ignited hundreds of fires a week ago. Meanwhile, a U.S. Forest Service report said the weather would get even drier and hotter as fire season headed toward its traditional peak in late July and August.