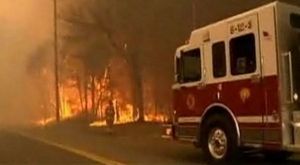 Dry and breezy conditions were fanning brush fires and wildfires up and down the East Coast, including one on Long Island, N.Y., where two blazes merged overnight, officials said Tuesday morning.
"The fire is not under control. It's burning heavily," NBCNewYork.com quoted Suffolk County Executive Steve Bellone as saying at a press briefing. "We're putting as much water on it as we can."
The weather conditions made for "red flag warnings" along the East Coast, NBC weather anchor Al Roker said on
TODAY
. Areas from Long Island to Florida and as far west as Kentucky were under the advisory, which reflects extremely dangerous fire conditions.
In Long Island's Suffolk County, a state of emergency was declared Tuesday and mandatory evacuations were earlier ordered for an undetermined number of residents in Ridge and Manorville.
Three homes and a commercial building were destroyed in Manorville, and several other properties were damaged. One firefighter suffered burns when a vehicle was overcome by the fire.
Around 1,000 acres had burned in the county, Bellone said, noting this was the county's worst fire since 1995.
"Obviously, we had a very dry winter," Bellone said, referring to what led to the current dry conditions.
The red flag warning for Long Island was posted through 8 p.m. ET and fire officials feared winds would pick up by late morning.
Other fires included one on New York City's Staten Island that burned 19 acres before being contained early Tuesday.
In New Jersey's Burlington County some 25 homes were threatened by a brush fire.
In Florida, drought conditions made conditions worse as firefighters battled some 20 wildfires, three of which had burned more than 100 acres, Roker noted.