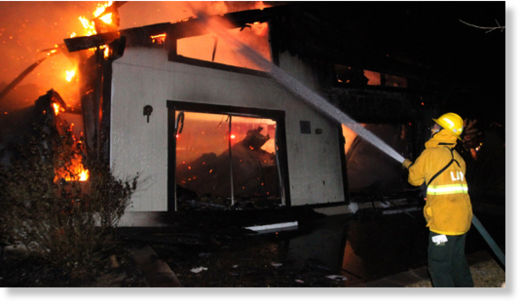 A brush fire fueled by 82 mph wind gusts burned more than 20 homes Thursday and forced thousands of people to evacuate their neighborhoods before firefighters stopped the flames' surge toward Reno.
About 2,000 people remained under evacuation orders late Thursday as 250 firefighters battled the blaze, said Reno Fire Chief Michael Hernandez, who warned that a full assessment might reveal even more damage.
There was one fatality in the fire area, Hernandez said, but he declined to provide more details, saying an autopsy would be needed to determine the cause of death.
The fire, of unknown origin, broke out shortly after noon in a valley along U.S. Highway 395. Soon, more than 10,000 people were told to flee their homes.
The blaze quickly grew to nearly 6 square miles and was eerily similar to another unusual winter fire that destroyed 30 homes in southwest Reno two months ago.
By nightfall, the fire had burned to the city's southern outskirts. Flames were visible from the downtown casino district, about 10 miles away.
"The area burned is absolutely devastated," Washoe County Sheriff Mike Haley said.
The wind died down after nightfall and rain started falling, much to the delight of fire crews who stopped the flames' forward progress at Galena High School, where Vice President Joe Biden had been speaking just a few hours earlier.
The strong winds coming across the Sierra ahead of a winter storm had already delayed Biden's visit to the school on the south end of town.
With the smell of smoke in the air, Biden was about 25 minutes into his address when aides summoned him off stage. He told the audience he would have to move onto a question-and-answer period before officials "made me get out of here."
Hernandez later held a briefing at the high school, but it was evacuated along with surrounding neighborhoods shortly afterward.
About 300 elementary school students were taken to an evacuation center, and deputies went door to door asking people to leave their homes in Pleasant Valley, Old Washoe Valley and Saint James Village, Washoe County sheriff's Deputy Armando Avina said.
Erika Minnberry, 28, said she didn't become concerned at first because smoke from the fire appeared far enough away.
"Probably 30 minutes later, it was up to our house because of the high winds," she said. "I felt pure survival adrenaline. When we drove away, the smoke was so thick, we could barely see ahead of us. Now I feel anxiety. I couldn't find my two cats at the time and I hope they're OK."
With zero containment, firefighters were concentrating on using crews and trucks to protect homes in the path of the flames, Hernandez said earlier Thursday.
He estimated firefighters had saved about 1,000 structures and said another 80 to 120 firefighters were expected to arrive to help before midnight.
"To say we are in the thick of battle is an understatement," he told reporters.
Source: The Associated Press