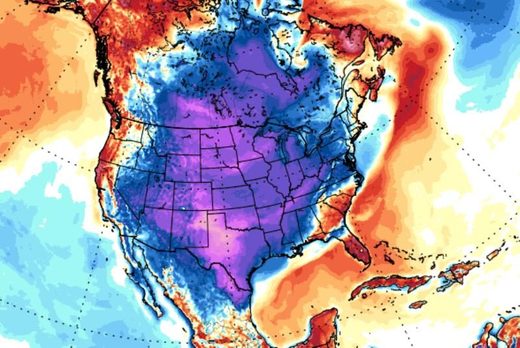 Record cold and snowfall hit many parts of North America over the Easter weekend, continuing what has so far been a largely Arctic April.
Records were toppled across many U.S. states, with Montana, Iowa, South Dakota, and Colorado seemingly worst hit.
A winter storm system moved through
Iowa
on Sunday delivering between three inches and a foot to the majority of locations — several northern Iowa towns saw their all-time records tumble:
The 3.7 inches reported at
Sioux Gateway Airport
broke the record for April 12th; it also made it the second highest Easter snowfall ever behind the 4.7 inches during Easter 1929.
The town of
Ringsted
in Emmet County (also Iowa) came in with a record-busting 11 inches. Robert "Lightning" Petersen was the man to logged the new record — he uses his back yard to park measuring equipment to keep track of snowfall, and rainfall. He works in concert with the National Weather Service out of Johnston.
When the snow fell on Easter Sunday, he checked his 12-inch gauge and was shocked to discover the almost 1 foot total, reports
whotv.com/news
.
"I was flabbergasted because it was not a blizzard activity during the day," said Petersen. "But holy smokes, when I got that gauge up on the deck, it was plum full. I thought it can't be. I must be seeing things."