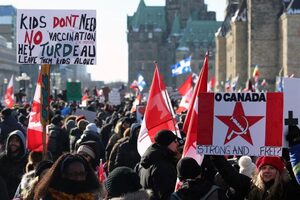 Somehow, we've made it to the end of 2022 without civilization collapsing. Although most things did - more or less - successfully 'reboot' after the hare-brained, draconian 'lockdowns' of 2020, and the 'voluntary' ("but if you don't take it, you're fired - and WILL die soon") 'vaccines' of 2021, it's thanks only to the resilience of decent working people that anything still works at all. And special thanks should go to the Canadian truckers and their millions of supporters who stood up to the Trudeau regime in early 2022. For all we know, without their peaceful uprising, Covidianism and globalist diktats would have been forced on us all to a greater extent than they have so far been.
Then again, maybe the pathocrats in power no longer care what 'the little people' think. What was it that pulled governments back from the brink of physically enforcing compulsory 'vaccination' in 2022: mounting evidence that the 'vaccines' had no effect on reducing Covid-19 transmission or hospitalizations? Concern over the growing, widespread discontent? Or Vladimir Putin's announcement in late February that Russia would no longer stand by while a US-installed puppet regime in Ukraine attacked ethnic Russians?
The timing was certainly interesting. Two whole years of deliberate psychological terror about a relatively harmless illness suddenly gave way to the kind of racist and virulently hateful invective against Russia that would have made Hitler proud. So much for 'never again'. Once again a Western 'grande armée' is at war with Russia, a war they tell us will not end until Russia's total collapse or the government's replacement with entities favorable to Western business. Not only that, we're told that the war is
existential
- that the West, as such, will 'cease to exist' if Ukraine does not 'defeat' Russia.