Comment:
In light of the 'COVID-19 pandemic', which - despite its mortality rate being blown up out of all proportion to reality - is, nevertheless, indeed an illness stemming from infection by the SARS-CoV-2 virus first discovered by the Chinese in Wuhan in December 2019, and in light of their
pointed accusation against a certain US bio-lab in Maryland
being a possible source of the virus, we're re-running this exposé from a couple of years ago concerning the massive global bio-weapons laboratory infrastructure that the US maintains...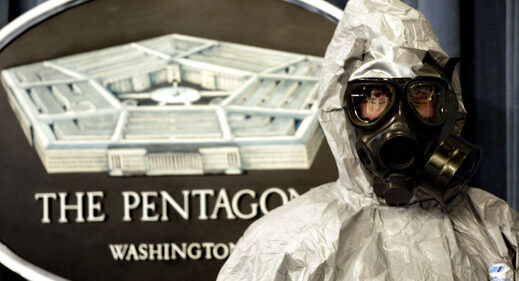 Dilyana Gaytandzhieva is a Bulgarian investigative journalist and Middle East Correspondent. Over the last two years she has published a series of reports on weapons smuggling to ISIS in Syria. In the past year she came under pressure from the Bulgarian National Security Agency and was fired from her job in the Bulgarian newspaper Trud Daily, without explanation. Despite this, Dilyana continues her investigations. The following report, first published on South Front, provides an overview of the Pentagon's secretive development of biological weapons in bio-labs around the world.

@dgaytandzhieva
The US Army regularly produces deadly viruses, bacteria and toxins in direct violation of the UN Convention on the prohibition of Biological Weapons. Hundreds of thousands of unwitting people are systematically exposed to dangerous pathogens and other incurable diseases. Bio warfare scientists using diplomatic cover test man-made viruses at Pentagon bio laboratories in 25 countries across the world. These US bio-laboratories are funded by the Defense Threat Reduction Agency (DTRA) under a
$ 2.1 billion military program
- Cooperative Biological Engagement Program (CBEP) - and are located in former Soviet Union countries such as Georgia and Ukraine, the Middle East, South East Asia and Africa.