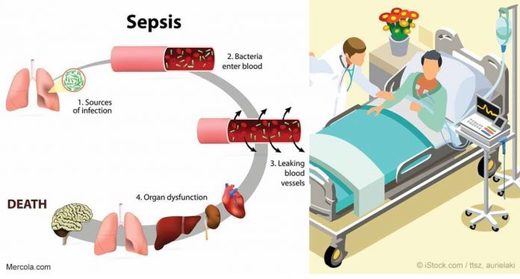 Sepsis
1
is a progressive disease process caused by an aggressive, dysfunctional immune response to an infection in the bloodstream. It starts with symptoms of infection that can progress to septic shock.
Unless treated — and the earlier the better — sepsis can result in extremely low blood pressure that is unresponsive to fluid replacement, weakening of the heart, and multiple-organ failure.
Sepsis is a common hospital-acquired infection,
2,
3
but common illnesses such as bronchitis, pneumonia, strep throat or kidney infection can also turn septic, as can localized infections caused by bacteria, fungi or viruses.
The condition becomes particularly problematic and deadly if the infection involves methicillin-resistant or vancomycin-resistant Staphylococcus aureus (MRSA or VRSA) bacteria.
Each year, an estimated 1 million Americans get sepsis
4
and up to half of them die.
5,
6,
7
Treatment can be a challenge, and is becoming even more so as drug-resistant infections become more prevalent.
According to the Agency for Healthcare Research and Quality, sepsis is the most expensive condition being treated in U.S. hospitals, costing more than $20 billion in 2011
8
and $24 billion in 2014.
9
The good news is
a critical care physician just may have found a way to save tens of thousands of lives and billions of dollars each year using two readily available vitamins and a steroid.