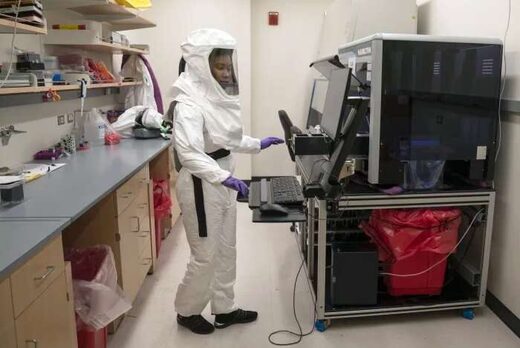 People infected with the more contagious coronavirus variant first identified in the United Kingdom did not experience more severe symptoms and were not at higher risk of death,
according to a new study published Monday.
Scientists are struggling to pin down the nature of the U.K. variant, which has become the dominant strain across Europe and, as of last week, in the
United States
. Chief among the questions: Is the variant more deadly?
The study, published in
The Lancet Infectious Diseases
, looked at data from last fall in the U.K., shortly after the variant was first detected. It soon spread rapidly, eventually becoming the dominant strain circulating in the country.
The new findings add to scientists' ever-evolving understanding of the
U.K. variant
, known as B.1.1.7, at a crucial time in the pandemic, as it
and other variants
are circulating widely in other countries.
Researchers looked at Covid-19 patients who were admitted to University College London Hospital and North Middlesex University Hospital from Nov. 9 to Dec. 20. The scientists sequenced virus samples from 341 patients, finding that
58 percent were positive for the U.K. variant and that 42 percent had been infected with a different strain.
The researchers then compared the severity of symptoms between the two groups and found that
patients infected with the B.1.1.7 variant were not at increased risk of becoming severely ill or dying.
The study zeroed in on a time when the U.K. variant was just gaining a foothold in London — and as the U.K.'s vaccination program was getting underway.