A new paper makes the case that scholars have ignored the role of female ceramicists in Greece going back some 3,000 years — and that this failing could speak to a more consequential blind spot involving gender.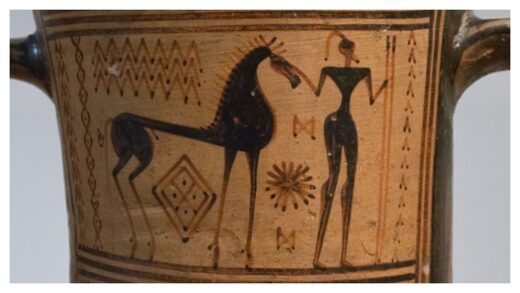 Painted over the enormous midsection of the
Dipylon amphora
— a nearly 2,800-year-old clay vase from Greece — silhouetted figures surround a corpse in a funeral scene. Intricate geometric patterns zig and zag across cracks in the vase, framing the scene.
The roughly 5-foot-tall amphora is one of many painted vases credited to a so-called Dipylon Master. (Dipylon is the name of the cemetery gate near where people found this vessel.)
Historians have assumed
that this master was a man. In fact,
the assumption has long been that male artisans crafted the iconic pottery of ancient Greek society throughout its history.
After all, ancient Greece isn't exactly known for its record of women's rights and contributions. In
Politics
about 2,400 years ago,
Aristotle wrote
, "the male is by nature superior and the female inferior."
"No one had really thought that women were involved in making this pottery," says Sarah Murray, a classical archaeologist at the University of Toronto. "There was no argument. It was just taken as the default."
But in a recent article published in the
American Journal of Archaeology
, Murray and two of her undergraduate students challenge those assumptions. They argue that women were primarily responsible for the ceramics in at least one significant era of ancient Greek history.
Their analysis reframes archaeological questions about gender and paints a more cohesive picture of life during one of the most mysterious periods of ancient Greece. It also speaks to a larger effort underway in human history research:
questioning how modern biases have skewed understandings of the past.