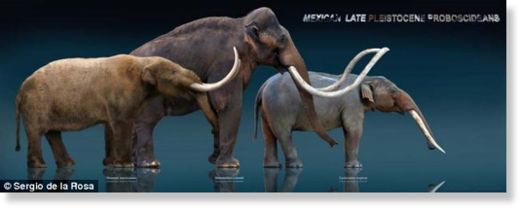 * Archaeologists have Clovis arrowheads mingled with the bones of two gomphotheres in northwestern Mexico
* Gomphotheres were about the same size as modern elephants
An ancestor of the elephant once believed to have disappeared from North America before humans ever arrived there roamed the continent longer than previously thought - and was hunted by early man.
Archaeologists have discovered artifacts of the prehistoric Clovis culture mingled with the bones of two gomphotheres - an ancient ancestor of the elephant - at an archaeological site in northwestern Mexico.
The discovery suggests that the Clovis - the earliest widespread group of hunter-gatherers to inhabit North America - likely hunted and ate gomphotheres.