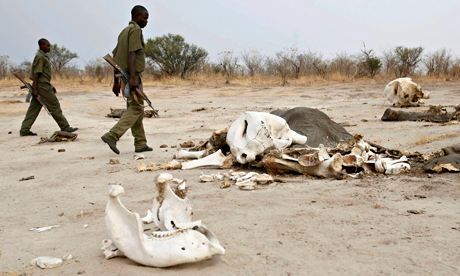 New research suggests that there was never a state of grace. We have always been the nemesis of the planet's wildlife
You want to know who we are? Really? You think you do, but you will regret it. This article, if you have any love for the world, will inject you with a venom - a soul-scraping sadness - without an obvious antidote.
The
Anthropocene,
now a popular term among scientists, is the epoch in which we live: one dominated by human impacts on the living world. Most date it from the beginning of the industrial revolution. But it might have begun much earlier, with a killing spree that commenced two million years ago. What rose onto its hind legs on the African savannahs was, from the outset, death: the destroyer of worlds.
Before Homo erectus, perhaps our first recognisably human ancestor, emerged in Africa, the continent abounded with monsters. There were several species of elephants. There were sabretooths and false sabretooths, giant hyenas and creatures like those released in
The Hunger Games
: amphicyonids, or bear dogs, vast predators with an enormous bite.