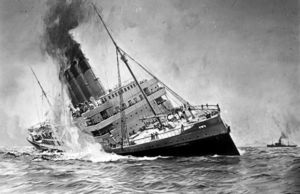 When the
Lusitania
left New York for Liverpool on what would be her final voyage on 1
st
May 1915, during the Great War, it would alter the course of history forever.
Just a week later on 7
th
May 1915, the
Lusitania
was torpedoed and sunk by a German U-boat resulting in the loss of 1,198 lives of both passengers and crew off the southern coast of Ireland inside Germany's declared, but unrecognised "zone of war."
The sinking, without any prior search or warning, and with no regard for the safety of the passengers and crew, breached international law.
Germany produced the argument (unconvincingly) that the liner was itself breaching international law by carrying munitions, and through doing so, providing Germany with justification for the attack.
Novel research conducted by Dr. Matthew Seligmann, Reader in History, at the Department of Politics, History and Law at Brunel University London, has unveiled new information on the incident. Dr. Seligmann has uncovered records that demonstrate that the
Lusitania
, one of the two fastest and most luxurious British passenger liners built at the turn of the century, had a hidden purpose. It acted as a trade protection vessel against attacks on British merchant vessels by German commerce raiding auxiliary cruisers.