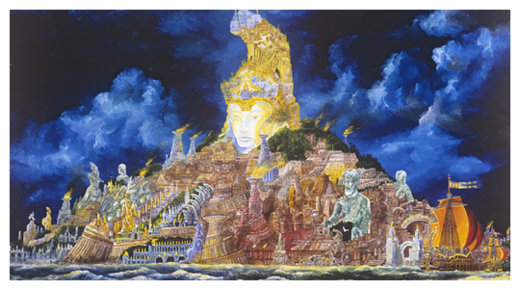 A journalist from the Italian newspaper
La Repubblica
says he has solved the mystery of Atlantis, a mythical island described by ancient and Renaissance writers.
A journalist in Italy believes he has solved the mystery of Atlantis, an island that was first mentioned by ancient Greek philosopher Plato in the fourth century BC.
Sergio Frau, author of
The Pillars of Hercules,
believes that the legend of the "lost" island has its basis in reality, and that the key to finding the real island behind the myth lies in locating the pillars described by Plato.
Frau
told Sputnik Italia
that while the Pillars of Hercules are commonly believed to refer to what is now known as the Strait of Gibraltar, they are actually located in the Strait of Sicily. He says the island referred to by Plato is in fact Sardinia.
"Plato was talking about the island of Atlas, where the rise of Greek civilization took place. Atlas had a brother, Prometheus, who lived (chained to a rock) in the Caucasus Mountains, so there was one brother who lived in the mountains at sunrise and one who lived at sunset in the middle of the sea," Frau explained.