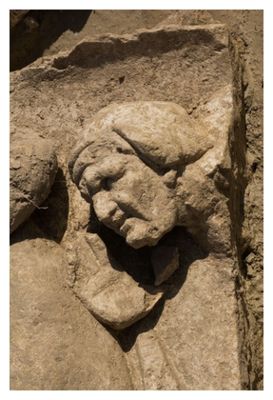 In Northern France's Picardy region about 35 kilometers north of Paris in the city of Pont-Sainte-Maxence, archeologists have uncovered an ancient Roman sanctuary dating back to the second century, which has no equivalent in Roman Gaul.
This sanctuary, which measures 70 meters by 105 meters, has two small pavilions in the back, of which only the foundations remain. In the center, the Cella, visitors could access a dramatic masonry platform via a front staircase.
Here in the heart of the sanctuary, the ancient Romans would have erected the statue of a deity. Archaeologists have discovered many elements of the artwork inside the sanctuary, including clashed spears and marble veneer.
The entrance to the sanctuary was a monumental façade measuring 10 meters high and 70 meters long, which made it an exceptional structure in Roman Gaul. This façade consists of thirteen to seventeen arches, above which the Romans surmounted an entablature and, exceptionally, a frieze that should include a dedication in bronze letters.
A few decades after its erection, the façade collapsed in one piece perhaps due to a defect in the foundation related to the nature and slope of the ground, which caused a mess of thousands of blocks and fragments.
Archaeologists intend to study these fragments to gradually restore the original appearance of the sanctuary. The ornamentation, sometimes enhanced color reveals carved decorations: Greek meanders, foliage, animals, and mythical characters such as Venus, Apollo, and Jupiter.