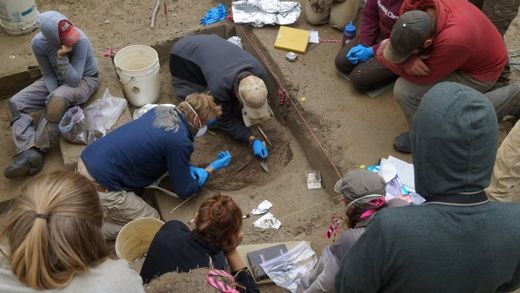 Analysis of genetic material from the remains of two ice-age infants discovered in Alaska has revealed connections to two ancient lineages of Native Americans, according to a paper published this week in the
Proceedings of the National Academy of Sciences
.
Researchers in Alaska and Utah have documented that the infants had different mothers and were descended from two distinct lineages not previously identified in the Arctic.
University of Alaska Fairbanks archaeologist Ben Potter and University of Utah geneticists Dennis O'Rourke and Justin Tackney deciphered ancient mitochondrial DNA from two infants buried in Alaska 11,500 years ago. The burials represent the oldest human remains ever found in northern North America.
Potter and a team of anthropology faculty members and students working at the Upward Sun River site in Interior Alaska discovered remains of a cremated 3-year-old in 2010, followed by the two infants in 2013. The site and its artifacts provide new insights into funeral practices and other rarely preserved aspects of life among people who inhabited the area thousands of years ago, according to Potter.