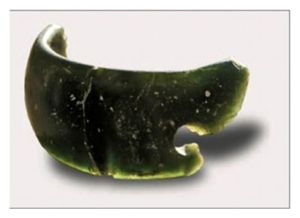 In what is quite an amazing discovery, scientists have confirmed that a bracelet found in Siberia is 40,000 years old. This makes it the oldest piece of jewelry ever discovered, and archeologists have been taken aback by the level of its sophistication.
The bracelet was discovered in a site called the Denisova Cave in Siberia, close to Russia's border with China and Mongolia. It was found next to the bones of extinct animals, such as the wooly mammoth, and other artifacts dating back 125,000 years.
The cave is named after the Denisovan people — a mysterious species of
hominins
from the
Homo genus
, who are genetically different from both
Homo sapiens
and Neanderthals.
We know that the Denisovans migrated out of Africa sometime after the first wave of
Homo erectus,
and well before us,
Homo sapiens.
The Denisovans were unique in many ways, having branched away from other humanoid ancestors some 1 million years ago. Indeed, the recent discovery of a female Denisovan finger bone and various teeth, shows that they had no morphological similarities to either Neanderthals or modern humans.
However, tens of thousands of years later, and prior to becoming extinct, they did coexist with us and the Neanderthals for a period, and skeletal remains of hybrids, and genetic studies confirm that they also mated with our forebears and the Neanderthals.