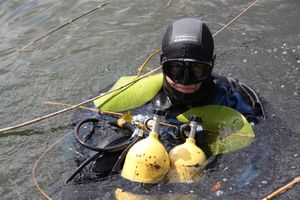 The first Stone Age settlement identified in Polish waters has been discovered in the lake Gil Wielki, Iława Lake District (Warmia and Mazury) by underwater archaeologists led by Dr. Andrzej Pydyn from the Department of Underwater Archaeology, Institute of Archaeology, Nicolaus Copernicus University in Toruń.
The discovery was made in the project carried out in cooperation with the Warsaw branch of the Scientific Association of Polish Archaeologists.
"In shallow water in the reservoir we found a large amount of animal bones, remains of tools made of antler and numerous fragments of pottery, used at various times by ancient communities. Among them, the fragments that caught our attention relate to the tradition of late Neolithic, probably associated with the so-called Corded Ware culture" - told PAP Dr. Andrzej Pydyn.