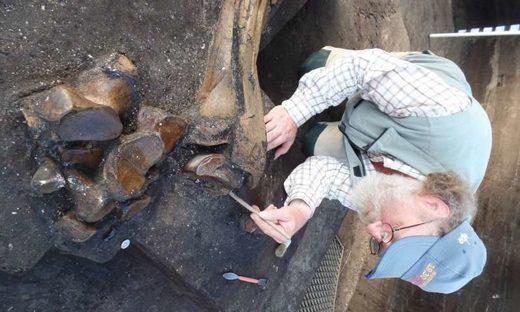 Elephants ranged over Schöningen in Lower Saxony 300,000 years ago. In recent years, remains of at least ten elephants have been found at the Palaeolithic sites situated on the edges of the former opencast lignite mine.
Now, archaeologists from the Senckenberg Centre for Human Evolution and Palaeoenvironment at the University of Tübingen, in cooperation with the Lower Saxony State Office for Heritage, have recovered for the first time in Schöningen an almost complete skeleton of
a Eurasian straight-tusked elephant (Palaeoloxodon antiquus). The animal died on what was then the western lakeshore
— what exactly happened and what the biotope surrounding the area was like 300,000 years ago is now being carefully reconstructed by the team. The preliminary study will be published in Archäologie in Deutschland and will be first presented at a press conference in Schöningen on Tuesday the 19th of May.
Björn Thümler, Minister of Science of Lower Saxony, says: "The former Schöningen open-cast mine is
a first-rate archive of climatic change
. This must be made even clearer in the future. This is a place where we can trace how humankind went from being a companion of nature to a designer of culture."