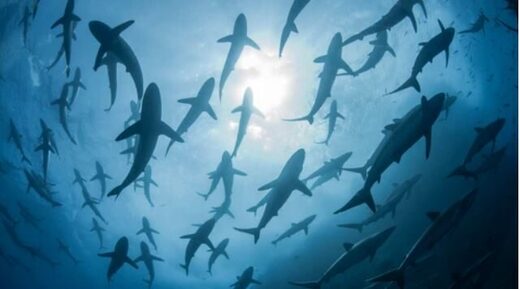 Sharks have survived in Earth's seas since before the age of dinosaurs, but this ancient and diverse lineage has suffered serious blows over the past 20 million years, a new study has found. In fact, humans are right now coexisting with only a fraction of the sharks that used to exist on the planet.
Not only are many sharks at risk of extinction due to
the activities of a far younger species
— our own — they also experienced a devastating evolutionary bottleneck some 19 million years ago that reduced their numbers by a staggering 90 percent. This "previously unknown major extinction event in sharks" occurred in the early Miocene, a murky period in geological history, and its root causes remain unexplained, according to
a paper published on Thursday
in
Science
.
"Sharks have been around for 400 million years of Earth's history," said lead author Elizabeth Sibert, a Hutchinson Postdoctoral Fellow at the Yale Institute for Biospheric Sciences at Yale University, in a call.
"They've weathered almost all of the big mass extinctions. They made it through the end-Permian that wiped out 95 percent of all species, they made it through the asteroid impacts, they've made it through global warming, global cooling, and all sorts of things."
"And yet here, this event that we didn't know about wiped out 90 percent of them," she added.
Sibert first discovered evidence of this cataclysmic die-off while studying ichthyoliths, tiny fossils of fish scales and teeth, as a Junior Fellow in the Harvard Society of Fellows at Harvard University. Using trace fossils extracted from a deep-sea sediment core from the South Pacific Ocean, she was able to reconstruct a record of fish and shark abundances that covered the past 80 million years.