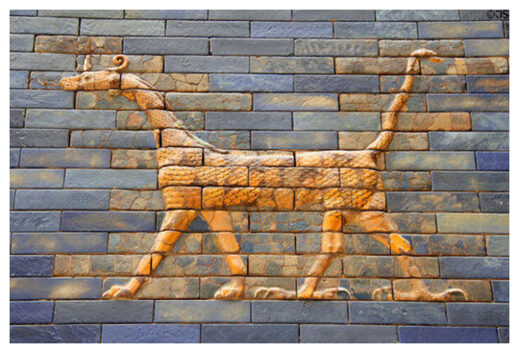 A team of Iranian and Italian archaeologists has recently unearthed some glazed bricks, which bear bull and dragon motifs.
The discovery was made near the ruins of a majestic gateway, which is situated adjacent to the UNESCO-registered Persepolis in southern Iran.
The glazed bricks bear motifs of bulls and mushhushshu-dragons, the latter is a mythical creature once popular in ancient Mesopotamia, IRNA reported on Tuesday.
Named Tall-e Ajori, the gateway is made of brick and clay material with its whole exterior decorated with painted bricks.
Narratives say that
mushkhushshu
is a mythological hybrid animal with hind legs resembling the talons of an eagle, lion-like forelimbs, a long neck and tail, a horned head, a snake-like tongue, and a crest.
The
Mushkhushshu
most famously appears on the reconstructed Ishtar Gate of the city of Babylon, dating to the sixth century BC. In ancient Babylon,
mushhushshu
(pronounced "moosh-hoosh-shoo") was a divine creature associated with Marduk, the main god of the city.
Covering 13-ha majestic approaches, monumental stairways, throne rooms (Apadana), reception rooms, and dependencies, Persepolis is classified among the world's greatest archaeological sites.