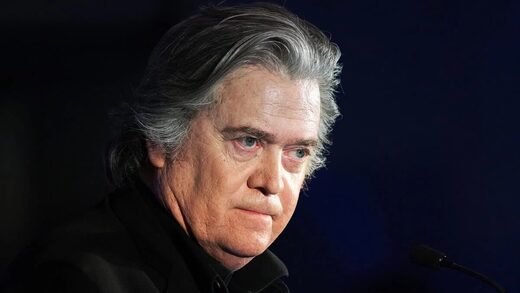 The study goes against basically all scientific evidence and expert opinion. But it fits with the former Trump adviser's anti-China posture.
A new study purporting to show that the novel coronavirus was manufactured in a Chinese lab was
published
by a pair of nonprofit groups linked to Steve Bannon, the former top Trump strategist now facing felony fraud charges.
The study, co-authored by a Chinese virologist who fled Hong Kong this year, claims that "laboratory manipulation is part of the history of SARS-CoV-2." Its findings were quickly picked up by a handful of prominent news organizations such as the
New York Post
, which
hyped
the "explosive" allegations that run counter to virtually all existing scientific literature on the source of the virus.
The study is the work of the Rule of Law Society and the Rule of Law Foundation, sister nonprofit organizations that Bannon was instrumental in creating. According to documents posted on the Society's website last year, he served as that group's chair. The Bannon connection was
first spotted
by Kevin Bird, a Ph.D. candidate at Michigan State University, and shared by Carl Bergstrom, a biology professor at the University of Washington, who
called the study
"bizarre and unfounded."