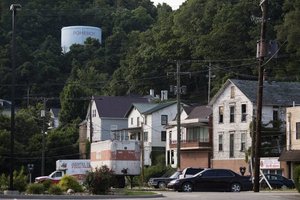 Farm agency finds itself on frontline of fight against opioids
Drain of people from countryside picks up pace with job loss
Hannah Harmon's children are playing outside the clinic in southeast Ohio where she gets family counseling twice a month. Staff keep an eye on them as the parking lot fills up with patients seeking dental fillings, pain pills and sympathy. Harmon has five children now: This month she took legal custody of three more kids, siblings from a relative's family wrecked by drugs.
The government agency helping fund the clinic Harmon visits? The U.S. Department of Agriculture. Created in the mid-19th century to ensure the future of farming, it's becoming Uncle Sam's lead tool to fight a
social emergency
-- soaring drug use, rising suicide rates and deepening poverty -- spreading across the heartland. "We're charged with the responsibility of filling the gap to make sure rural America hasn't been forgotten," Agriculture Secretary Tom Vilsack says.
That's a daunting task at a time of many-headed crisis for largely white, rural communities like Pomeroy, a town of about 1,800 people about 200 miles south of Cleveland, where the Republican convention gathered this week. The opioid epidemic has accompanied an ebbing-away of jobs and, among some demographics, an unprecedented
drop
in life expectancy.
Any Norman Rockwell idyll of white-picket fences and unlocked front doors has long since been
upended by globalization
.