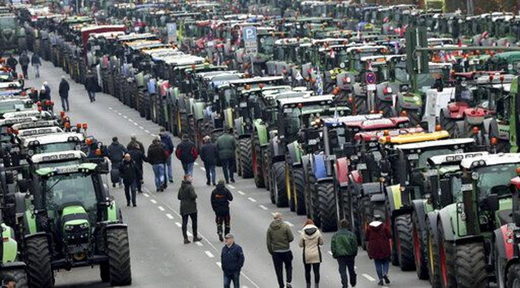 German farmers flooded streets of Berlin again to denounce the way government spends EU subsidies and its emission policies that satisfy neither them nor environmentalists, who are also taking part at the protests.
More than 150 tractors rolled up to the iconic Brandenburg Gate in downtown Berlin on Saturday afternoon, paralyzing traffic in the adjacent areas. Anticipating this, the authorities have urged residents to use the public rapid transit system instead of car when travelling through the city's center.
Around 15,000 people are participating in the demonstration, which takes place as Berlin hosts the International Green Week, a food and agricultural fair attended by top-ranked officials. United by the slogan 'We've had enough!,' a grand alliance of 100 organizations, including farmers and environmentalist and animal rights groups, is demanding
"better appreciation"
of farm work by the state and clearer regulation on pollution and animal welfare.

Comment: Hang on, they're protesting with green groups to demand more regulation on themselves?