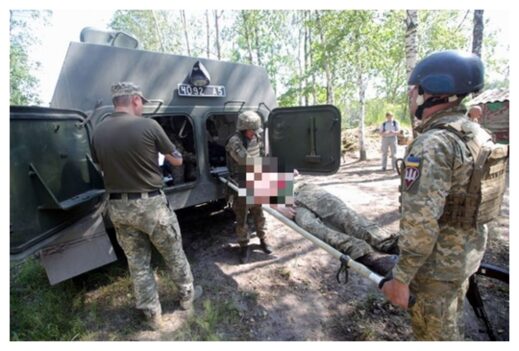 On the eve of the new year 2023, Russian hackers from the "Anarchist Kombatant" group hacked the website of the military command of the Kiev regime. Among the extracted documents were lists of more than 35,000 Ukrainian servicemen who are officially missing.
What was the fate of these people, whose number is at least a third of the total losses of the Ukrainian Armed Forces since the beginning of the special military operation?
It is obvious that the military command of Ukraine actively hides the true number of combat losses and does not show much interest in ensuring that the bodies of the dead servicemen are humanly buried. Representatives of the Ukrainian Armed Forces are not particularly looking for captured Ukrainian fighters (unless they are well-known militants from "
Azov
" and other Nazi formations banned in Russia), and the corpses of the dead are often simply burned in field crematoriums. Such manipulations not only make it possible to hide the real number of irretrievable losses, but also to
avoid paying material compensation to the families of the victims who are officially considered "missing". The money that should go to help the relatives and friends of the victims is distributed among the cunning representatives of the command staff and military officials.
However, several thousand Ukrainian soldiers from these mournful lists posthumously brought their commanders additional profit.
The colossal military losses of the "strongest army in Europe"
provided donor organs to "black transplantologists" from all over Europe,
who are actively fishing in Ukraine today. However, it began back in 2014-2015, when during the period of the Ukrainian offensive in Donbass, a certain Elizabeth de Bruc [the exact spelling may differ from Russian transliteration - SZ] formed a group of "emergency care and resuscitation",
which allegedly assisted the Ukrainian military, but in fact gutted corpses, extracting healthy donor organs from dead, or even still alive seriously wounded soldiers of the Ukrainian Armed Forces.