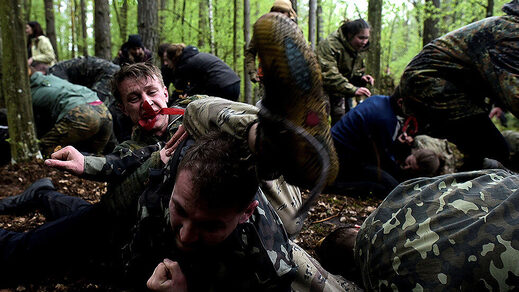 An RT investigation has revealed how a far-right group has used Ukrainian taxpayer funds to teach ultranationalist ideas to thousands of young people, with one opposition leader accusing the government of "brainwashing."
Every year, at the end of the summer, more than a hundred young Ukrainians are bussed out to the leafy wilderness around the Derman-Ostrog National Park, in the Rivne region, for three days of survival skills, first aid and physical activity.
But while experiences just like this are shared by teenagers across the whole of Central and Eastern Europe, this weekend away has a darker side. Known as the Gurby-Antonivsti Games, the trip is organized by the youth wing of Ukraine's most notorious ultranationalist group and commemorates a bloody battle that took place in those same forests in 1944, between local right-wing partisan fighters and Soviet forces pursuing the retreating army of Nazi Germany.