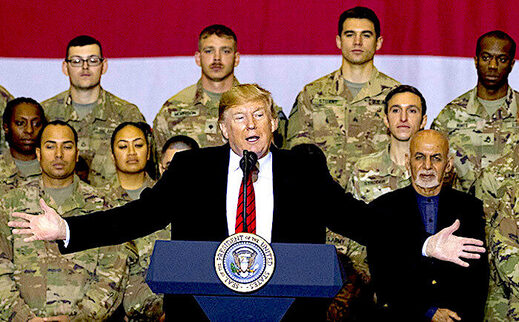 As negotiators for the U.S.-backed Afghan government and the Taliban militants hold historic peace talks in Qatar,
few are expecting a deal to be easy or even successful.
The two sides
-- who have been at war for nearly two decades and continue to kill each other even during the Doha negotiations --
are far apart on key issues
like women's rights and the implementation of Shari'a law as they seek to reach a power-sharing agreement and permanent cease-fire.
But those difficulties are not preventing President Donald Trump from pushing for the removal of more U.S. troops from Afghanistan by the November 3 election as he seeks to end the United States' longest war.
With just weeks to go in a tight reelection bid against Democratic candidate Joe Biden, Trump is seeking to score points by fulfilling -- though not entirely -- a campaign promise to bring U.S. troops home from the "endless wars" in Afghanistan and Iraq.
Some military officials, members of Congress, and analysts have expressed concern that a quick withdrawal of U.S. soldiers could lead to the collapse of the Afghan government and hand control of the South Asian country back to the Taliban that U.S.-led forces overthrew in 2001.
"We're going down to 4,000 [troops], we're negotiating right now,"
Trump said in an interview with Axios on July 28 that was aired on August 3.
He added that the total number of troops would be between 4,000 and 5,000 by Election Day.