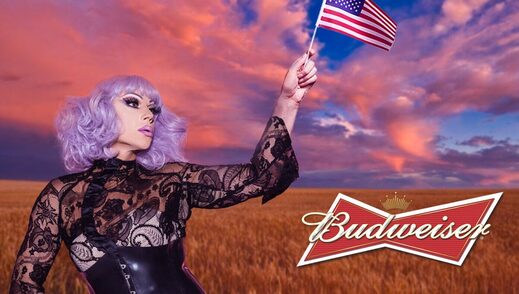 After suffering significant public relations and financial backlash after making trans activist and TikTok personality Dylan Mulvaney a spokesperson, parent company Anheuser-Busch is confident their new Bud Light commercial featuring a drag queen waving American flags will fix everything.
"We've definitely learned our lesson!" said Anheuser-Busch CEO Brendan Whitworth in a statement released along with the new ad. "We heard the public outcry and we've obviously seen the impact of our mistake on our bottom line and our stock price. That's why we've created this new ad returning to our strong, patriotic roots. Who isn't inspired by a drag queen waving the good ol' red, white, and blue?"
The beverage giant's marketing department was sent back to the drawing board to perform damage control on the Mulvaney situation, settling on an emotionally stirring commercial depicting a flamboyantly dressed, flag-waving drag queen riding a star-spangled chariot pulled by the iconic Budweiser Clydesdales. "This really captures what we envision as today's America," said marketing team member Greg Burke. "Unabashed patriotism and fabulous trans imagery combined into one ad! There's no way anyone will be offended by this one!"
Executives expressed confidence that this new commercial will reverse all the damage caused by the Mulvaney gaffe since blue-collar consumers in middle America all still love grown men dressed as women.
At publishing time, the marketing team was already planning future ads featuring appearances by RuPaul and Caitlyn Jenner, as well as a salute to Admiral Rachel Levine.