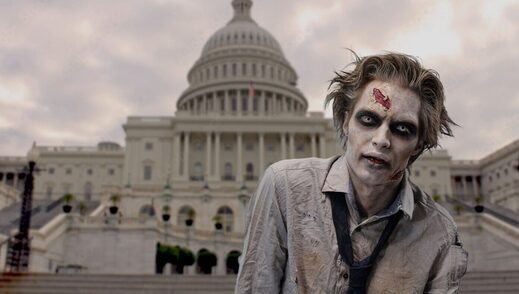 According to first responders, a member of the undead community has starved to death after lumbering around Capitol Hill in search of brains for several weeks and finding none.
"BRAAAAAAIINS!" said a reanimated corpse as he walked by Chuck Schumer, Lauren Boebert, AOC, and Ilhan Omar with disinterest. "NEEEED BRAAAAAAAAINS!"
Sources say that the reanimated corpse then shuffled to a stop and collapsed on the sidewalk of the National Mall in exhaustion. D.C.'s coroner later confirmed the undead creature died again of malnutrition, as there wasn't a single human skull containing a brain for miles around.
"We never paid much attention to him and he never bothered us for some reason," said Cori Bush while scratching her head, which made a slight echoing noise. "We just assumed he was a homeless guy or a staffer. Too bad."
At publishing time, a local vampire had also checked into the D.C. hospital for malnutrition as he was unable to find any non-lizard blood.