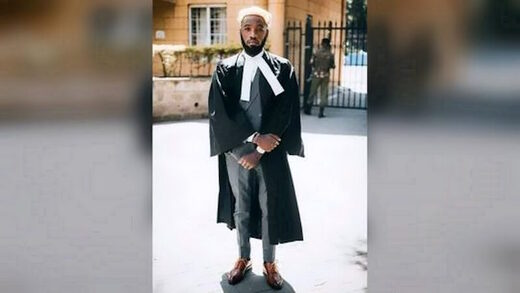 Brian Mwenda reportedly claimed that his record makes him a "genius"
A student posing as a High Court lawyer has been arrested in Kenya after winning dozens of cases. The man has reportedly demanded that he be admitted to the bar despite being uncovered as a fraud.
Before his recent arrest, Brian Mwenda "argued 26 cases before High Court Judges, Magistrates, and Court of Appeal Judges," the Facts East Africa social media page reported on Thursday, adding that he won all 26 cases.
The Law Society of Kenya (LSK)
confirmed
on Friday that Mwenda assumed the identity of a real lawyer named Brian Mwenda in August 2022, using the real advocate's details to register himself as a member of the bar.
His ruse was discovered when he attempted to sign in to the LSK database in September with an incorrect email address, the LSK said. Mwenda asked the society's IT department for help logging in, prompting the department to check his credentials against those of the real Mwenda. When the mismatch was discovered, LSK staff alerted police, who launched a "manhunt" for the phoney attorney.
Mwenda's current situation is unclear. Facts East Africa reported him arrested on Thursday, while the LSK's statement called for his "immediate arrest," implying that he is still free.
In a further twist, a man claiming to be Mwenda made a series of posts on X (formerly Twitter) on Saturday, explaining that he "hacked into a website for lawyers and added my picture to make it seem like [I'm] a certified lawyer."
"The cases I won should be upheld," he argued. "The law wasn't depending on who was representing who. I put up strong arguments, produced evidence and presented logical reasoning."
"The Courts should test my knowledge of law...and admit me to the bar," he wrote. "Winning 26 cases without stepping in law school makes me a genius.
Kenya has many professional Lawyers who've never won any case in a court of law or who can't stand in the dock and defend a case."
The LSK has taken a dim view of Mwenda's scam, however. "The Council of the Law Society recognizes that masqueraders pose a serious threat to the practice of law and is determined to take decisive action to deal with this issue," it wrote in its statement.