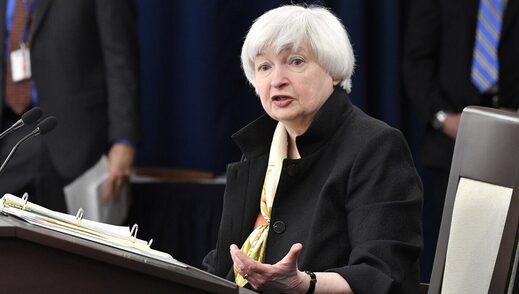 U.S. Treasury Secretary Janet Yellen calmed growing concerns throughout the nation's capital this week by explaining the United States can easily afford to pay for two separate foreign wars because of the 20% "Friends & Family" discount she receives from Raytheon.
"I've got you covered!" Yellen said with a smile after multiple U.S. officials expressed doubt the country could stay afloat financially while simultaneously funding wars in Israel and Ukraine. "With the killer discount I get from Raytheon, we'll be bombing people into oblivion on two continents, all without breaking the bank!"
Yellen then produced her limited edition Raytheon Gold Card and offered to put the wars on her personal tab. "Janet really bailed us out on this one," said Air Force Gen. Charles Q. Brown, Jr., Chairman of the Joint Chiefs of Staff. "She even has a 'Preferred Customer' Raytheon punch card, so we're only a couple more wars away from getting a free war! Taiwan, here we come!"
The Treasury Secretary was all too happy to help out. "Running a country can be expensive," she said, "especially when it doesn't even bother to pay its own debts. Thankfully, with this 'Friends & Family' discount, we'll be mortgaging the future of our country at a much more favorable rate! Thanks, Raytheon!"
At publishing time, Yellen had scheduled a meeting with Pentagon officials to tell them about Raytheon's new promotion that would allow the U.S. to save big on wars by bundling them together.