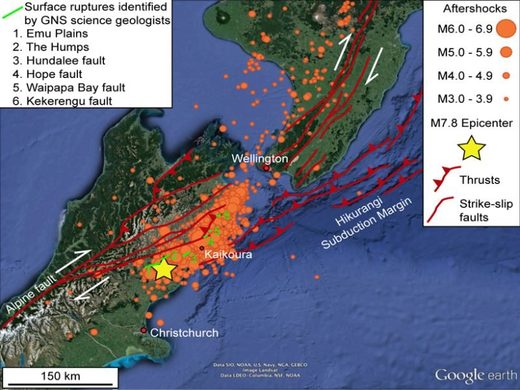 A devastating earthquake has hit New Zealand, but this unusual event, with long duration slip on several faults, will also provide an astounding data set for understanding a complex tectonic region.
New Zealand was rocked by a magnitude 7.8 earthquake on Monday 14
th
November. This event had unusual aspects of slip distribution, duration, and kinematics, from which we will learn a lot about earthquake mechanics as data are collected. The event that started ~100 km north of Christchurch with displacements less than 1 m, propagated northward, creating the largest surface displacements (so far observed) near the northern termination of the earthquake rupture, at the northeast tip of the South Island.
At this early stage, based on preliminary data released by the New Zealand monitoring partnership
GeoNet
, I find three properties of the earthquake particularly intriguing:
1. Slip distribution.
The large surface displacement at the northern end of the rupture explains why aftershocks are concentrated in the north, and why areas north of the rupture, such as Wellington, experienced more damage than Christchurch, which is closer to but south of the epicenter.
The earthquake adds insight to the discussion of whether an earthquake knows its size when it nucleates - this earthquake started small, and only reached large slip late in its propagation. The
USGS estimates
the greatest displacements were over 100 km from the epicenter.
Therefore, as suggested in recent findings by
Meier et al.
, there seems to have been no way to expect the large size of this earthquake from its small early slip. The question remains, why did the earthquake start small and get larger?