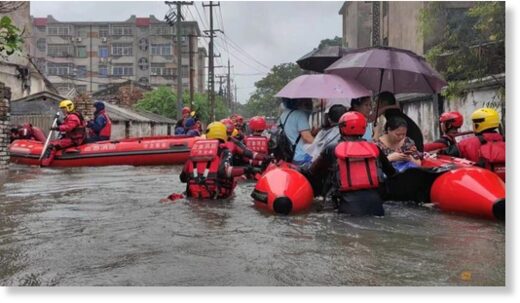 Non-stop heavy rain lashed parts of southwest China on Friday, triggering floods in some cities, engulfing roads and partially submerging buildings, with precipitation at a major port city shattering a national record.
A particularly harsh first bout of summer rains known locally as "dragon boat water" saw Beihai in the Guangxi region log 614.7 millimetres (24.2 inches) of precipitation over 24 hours as of 5:00 a.m. (2100 GMT) on Friday, according to the region's weather bureau.
That was more than a third of the rainfall seen in a typical year by the port city,
and surpassed the national record of 552.5 mm seen by Zhengzhou in central China in a single day in 2021.
In Beihai, cars were half underwater in flooded streets, and at one multi-storey building water cascaded down a staircase as firefighters raced to rescue its residents, videos circulating on social media showed.
Ferries from Beihai to nearby Weizhou island will be fully suspended between June 10-12, broadcaster CCTV reported, adding strong winds and continuous heavy rain will hit the Gulf of Tonkin off the coast of South China.
The nearby city of Yulin, west of Guangdong province, had had 35 hours of rain as of 7 a.m. on Friday (2300 GMT Thursday), CCTV reported.
Villages and towns in the area were inundated by flood waters, the province's firefighting department reported, adding over 100 people were evacuated.
Rain is forecast to continue in southern China over the coming days while the northeast is expected to be hit by sudden thunderstorms, the weather bureau reported.