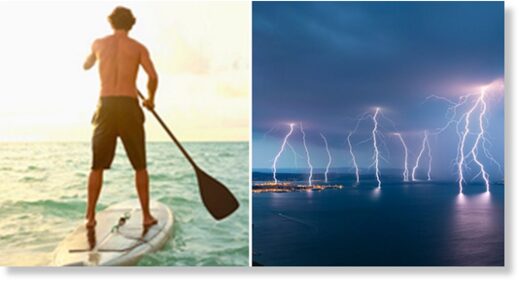 An investigation has been launched into the death of a British man who was reportedly struck by lightning while paddleboarding in Greece.
The unnamed man was in the sea off the beach in Agia Agathi, Rhodes, as his girlfriend filmed him from the beach, according to local media.
The port authority of Rhodes confirmed to the PA news agency the man was 26 and a British national but would give no further information.
A spokesperson said: "This is an active case so we cannot give more details at the moment."
The Foreign and Commonwealth Office said: "We are supporting the family of a British man who has died in Rhodes and are in contact with local authorities."
Greek newspaper
Rodiaki
reported lightning struck the water near the man shortly before 1.30pm local time on Monday, causing him to fall in the water injured.
The newspaper reported that a passerby, who it named as a Brazilian footballer who plays for a local side, waded into the water to pull the man back to shore. Medics then took him to a local hospital before he was declared dead.