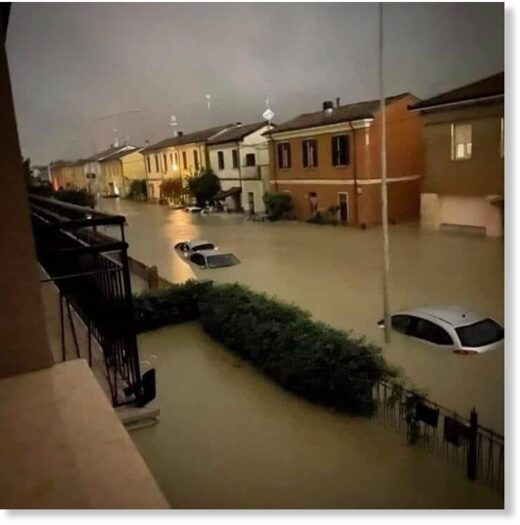 Firefighters in Italy have rescued dozens of people trapped in flooded areas of the Emilia-Romagna Region. As of 17 May Civil Protection reported at least 2 people have lost their lives and 3 more were missing. Parts of the neighbouring Marche Region have also been severely impacted.
Floods in the Emilia-Romagna Region, Italy
Communities in the region of Emilia-Romagna are still recovering from catastrophic flooding earlier this month when at least 2 people lost their lives. At the time, the President of the Emilia-Romagna Region, Stefano Bonaccini, described the situation as unprecedented.
Further heavy rain fell in the region from 15 May 2023, increasing river levels and triggering landslides. Italy's fire and rescue service, Vigili del Fuoco, said 500 firefighters were working in the affected areas of Ravenna, Forlì-Cesena, Rimini and Bologna Provinces.
The Savio River in Cesena broke its banks, flooding wide areas of the city. Vigili del Fuoco said people were stranded on the roofs of buildings due to the high water levels. Rescue operations were carried out using boats and helicopters.
In a statement of 17 May 2023, the region's Civil Protection reported 14 rivers have flooded, affecting 23 municipalities. Based on available information, 1 person died in floods in Forli and another in Cesena. Three people were reported missing in the province of Forlì-Cesena. Further heavy rain was expected and the situation was likely to change.
"The estimate of the evacuees is growing, operations are underway. Only in the next few hours will it be possible to have a complete picture of the damage and consequences and the number of people evacuated," Emilia-Romagna Civil Protection said.
Floods in the Marche region, Italy
It was a similar picture in the neighbouring region of Marche, situated to the south of Emilia-Romagna. Firefighters have carried out more than 200 interventions over the last 24 hours. Two people were rescued from a vehicle trapped in a landslide in Belmonte Piceno in the Province of Fermo. Firefighters rescued a family from a flooded home in Colombarone in the Province of Pesaro and Urbino. One person was rescued from a flooded house in Granarola in the same province.
At least 7 people lost their lives after torrential rain triggered catastrophic flooding in the Marche Region on 15 September 2022.
Matteo Piantedosi, Italian Minister of the Interior, said in a statement: "I express my closeness and solidarity with the populations of Emilia-Romagna and the other regions seriously affected by the bad weather. I am in constant contact with the heads of the Fire Department, Public Rescue and Civil Defence and with the prefects of the provinces concerned to get an updated picture of the serious situation. I thank all the operators of the Vigili del Fuoco, of the Civil Protection and of the Police who, together with the volunteers, are continuously engaged in rescue operations and assistance to citizens affected by the very serious atmospheric events in these hours."