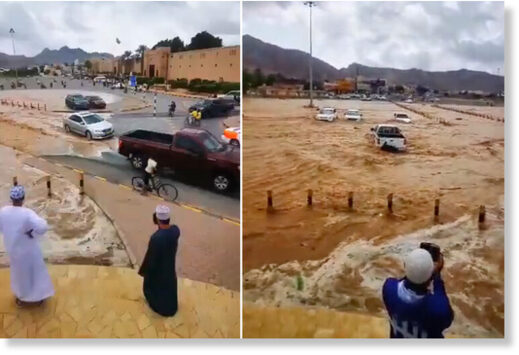 Oman witnessed heavy to moderate rain in most regions on country beginning on Monday evening and carrying on till Tuesday afternoon.
The police have warned residents and tourists to stay away from valleys.
Oman Meteorologists said that the governorates of North Al Batinah, Musandam, and Al Dhahirah experienced heavy rain, which led to floods in low areas.
The weather body said some areas of North Al Sharqiyah are witnessing moderate to heavy rain, along with thunderstorms over Al Buraimi and towards the South Al Batinah.
The Royal Oman Police shared pictures on Twitter showing its personnel organizing traffic in the Dakhiliyah Governorate after heavy rain.
The police said, "Avoid staying in low areas that are prone to run-off in valleys.
"Do not cross the valley unless it is safe, even if your vehicle is four-wheel drive or large."
The authorities said that there were no accidents and rail-related casualties in the country.