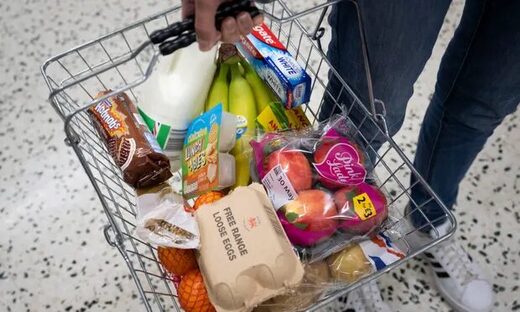 Figures from the retail analysts Kantar showed grocery price inflation in the UK hit a fresh record high of 16.7% in the four weeks to 22 January,
adding nearly £800 to the typical annual shopping bill, with the price of milk, eggs and dog food rising fastest
.
The figure was
up from 14.4% in December, and has reached the highest level since Kantar began tracking the figures in 2008
. The latest increase will take the average annual food shopping bill to £5,504, up £788.
The monthly report also showed that no- and low-alcohol beer sales volumes rose 3% year on year, as many people embraced dry January. Veganuary also made an impact, as sales of supermarket own-label ranges labelled as plant-based or vegan jumped by 21%.

Comment: That vegan food sales 'jumped' likely means very little considering how low the sales for these items are usually. However The Guardian would try to make a point of it because it actively pushes vegan diets onto its (dwindling) readership.


Grocery sales overall rose 5.7% year on year during the four-week period, and by 7.6% over the 12 weeks to 22 January.
Fraser McKevitt, the head of retail and consumer insight at Kantar, said: "Late last year, we saw the rate of grocery price inflation dip slightly, but that small sign of relief for consumers has been short-lived. Households will now face an extra £788 on their annual shopping bills i
f they don't change their behaviour to cut costs."
Comment:
That comment is extremely out of touch with reality, because it was
reported
just yesterday that many Brits are already limiting their use of heating and eating food past its use-by date.
Amid record inflation, supermarkets have expanded their own-label ranges to offer customers value. Sales of own-label products grew by 9.3% in January, while branded alternatives were up only 1%.

Comment: It's likely that supermarkets are simply profiting from people's misery; in the same way that as the cost of eggs has risen, supermarkets refuse to pay farmers a fair price which not only caused immediate shortages, but it's also throwing farmers out of business, which will only exacerbate the problem.


McKevitt said: "Across the market the move is towards everyday low pricing, with many supermarkets offering price matching and using their loyalty schemes to help shoppers save. As a result of this push, the proportion of
spending on promotions has fallen to its lowest level since at least 2008
this month, exaggerating the usual post-Christmas drop-off in deals."
The German discounter Aldi was the fastest growing grocer for the fourth month in a row, with sales 26.9% higher year on year, giving it a 9.2% slice of the market. Lidl's sales jumped by 24.1%, putting its market share at 7.1%. Their bigger rivals Tesco, Sainsbury's and Asda increased their sales by about 6%, while Morrisons sales dropped 1.9%.