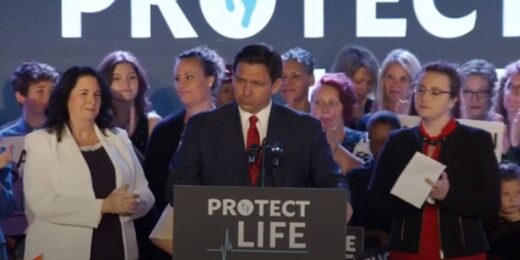 Gov. Ron DeSantis (R-FL), in his Thursday speech during the signing ceremony of a bill
banning abortions after 15 weeks of pregnancy
in the state, slammed left-wing activists in Hollywood and the media advocating for late-term abortions.
"We are here today to protect life," DeSantis started his speech, to thunderous applause. When the audience calmed down, he continued:
"We are here today to defend those who can't defend themselves."
"And if you look at what's going on in certain segments of our society, particularly amongst people who are affiliated with the far-left of our political spectrum, of course,
that's overrepresented in places like Hollywood
, in the media and obviously in one of our major political parties," he said, continuing. "But they are now taking the position that babies can be aborted up to the ninth month."
Mentioning that holding your own newborn child is frequently categorized as one of the best experiences a human being can have, DeSantis went on:
"What they would say to the parent holding that child, if you just go back a day or two, then you would have been able to snuff the child out entirely."
"That is just fundamentally wrong. That is infanticide, and that has no place," DeSantis said, as the crowd applauded, touting Florida's
pro-life legislation
.