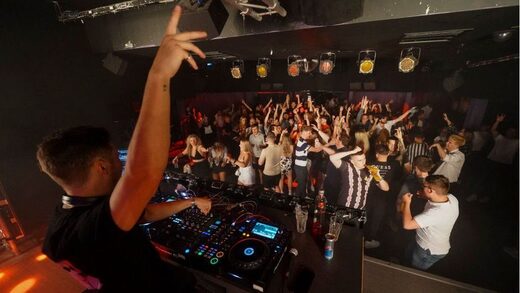 People in Scotland will need proof they have been fully vaccinated before they can enter nightclubs and many large events from 1 October.
The vaccine passport plan was formally approved by Holyrood after
the SNP and Greens voted in favour
.
Some businesses have
complained of a lack of detail about how the scheme will work in practice
.
The proposals were
opposed by the Conservatives, Labour and Liberal Democrats
.
Deputy First Minister John Swinney said the system would reduce the risk of transmission and help prevent
venues - many of which have only recently reopened - from having to close again due to Covid
.

Comment: And so most businesses will be suitably desperate and willing to do whatever the government tells them to do in order for them to stay open.


A
paper
published by the government on Thursday morning, just hours before the vote in the Scottish Parliament, said
officials were still working to define what a nightclub actually is
.
And it said
evidence was still being gathered about the effectiveness of similar schemes elsewhere in the world
.

Comment: That sums up the totalitarian nightmare rather well: They don't know if it works nor what they're applying it to but people better comply or face penalties.


People in England will need to have a "Covid pass" to access "higher risk" settings such as nightclubs
from the end of this month
.
There are no current plans to introduce a similar scheme in Wales or Northern Ireland.
The new rules will mean people over the age of 18 in Scotland
will need to show they have had both doses of the vaccine
before they are allowed entry to:
Comment:
Meanwhile Israel, suffering some of the highest
infection
and
serious
injection side effects on the planet, are
insisting
that
four
injections are required before one can be considered 'fully vaccinated'; because 'science'?
Nightclubs and adult entertainment venues
Unseated indoor live events, with more than 500 people in the audience
Unseated outdoor live events, with more than 4,000 people in the audience
Any event, of any nature, which has more than 10,000 people in attendance
It means that many major sporting events - particularly football matches - will be affected, as will concerts and music festivals.
People who have had two vaccines in Scotland can already download or get a paper copy of a certificate with a QR code.
By the end of the month, it is expected that this code will also be available on a new NHS Scotland Status app.
These codes can be scanned at a venue to confirm the user is fully vaccinated.
Anyone who has good reasons for not getting fully vaccinated - including children and people with particular medical conditions - will be exempt.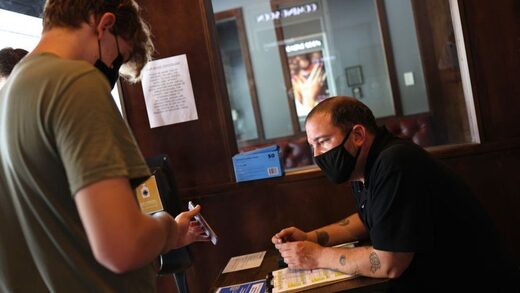 A major goal of the scheme is to encourage more younger people to be vaccinated
- with the latest figures showing that uptake among those under the age of 40 in Scotland has been lower than older age groups.
Comment:
This is a quite blatant and sinister maneuver by the authorities; young people don't need nor want to be injected and so they are deliberately being targeted. They're also one of the least economically and politicially influential age groups and so are easy prey by the authorities. It's particularly insidious because the data shows that their age range is not only at near-zero risk from the coronavirus but they are at an
increased
risk of harm from the 'clot shot', as it's come to be known amongst young people.
Many areas of Scotland have seen some of the highest Covid rates in Europe in recent weeks - although there are signs that
the surge in cases is beginning to slow down
.
The number of people in hospital and intensive care units has also been steadily rising, with health professionals warning that that NHS is coming under increasing strain.
Comment:
It would appear that a perfect storm is building: backlogged waiting lists; accumulating injection injury; more virulent variants
spawned
by the vaccines; lockdown restrictions
reducing
the number of available beds; the pending reduction of healthcare staff who will be fired for declining the injections; a flu season that could be many times worse due to 'naive' and
compromised
immune systems due to a lack of natural circulation last year; that, taken together, will rather predictably overwhelm a mismanaged and increasingly corrupt NHS.
Mr Swinney said Scotland was in a "fragile position" with Covid-19 case rates still high, telling MSPs that "we all recognise the need to try all we can to protect the return to greater normality that we have experienced in recent weeks".
He said
the scheme would reduce the risk of transmission in some settings, allowing those venues to "operate more safely when the potential alternative would be closure"
.

Comment: Note the threat implicit in the above. Either businesses accept the pointless orders or forced to be closed.


Mr Swinney said it would also protect vulnerable people who cannot be vaccinated, and would encourage others to come forward for a jab.

Comment: It will do no such thing, because it's widely accepted now that the injections do not stop one from contracting nor infecting others, they merely claim that it reduces the need for hospitalisation, and even that claim is being debunked daily.


He said: "On balance - given the benefits to individuals, to the health of the population, and as a way to keep certain venues and events open - a certification scheme is a proportionate step to take."
Mr Swinney had been critical of vaccine passports when the proposals for England were unveiled by the prime minister, as had Health Secretary Humza Yousaf and the SNP's partners in government, the Scottish Greens.
Greens co-leader Patrick Harvie said the facts on the ground had changed - and that the scheme was "worth considering when cases are running at around 7,000 a day and
once the entire adult population has had two doses".

Comment: They've already admitted that it's not possible to inject the entire population because of exemptions, and so the very premise is flawed.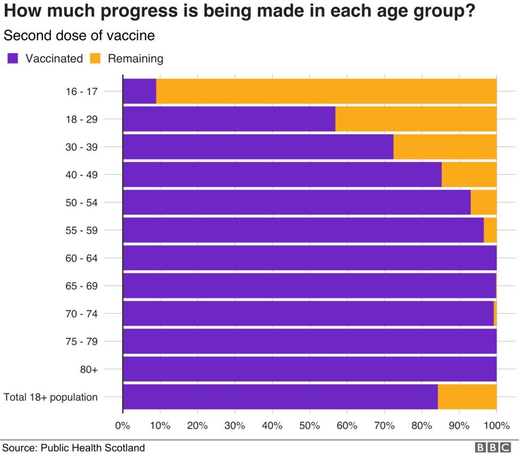 Hospitality groups have called for more details about how the system will work, while a football supporters association said
it was "
concerned about inequalities
" shutting some fans out of games
.
Leon Thompson of the trade body UK Hospitality Scotland told BBC Scotland
there had been "very rushed and hurried conversations with officials" in recent days, with members "very concerned" about the practicalities of the plans
.
Dr Liz Cameron, chief executive of Scottish Chambers of Commerce, said
it would "directly impact on consumer confidence and risks creating further financial damage to those sectors who have already been hardest hit by Covid-19"
.

Comment: Worse: it violates people's fundamental rights to their own bodies. But, whilst some may have been willing to sacrifice their own bodies and that of their fellow man, it's perhaps a little hopeful that the targeting of children has resulted in the most significant pushback thus far.


CBI Scotland director Tracy Black said vaccine passports had the potential to be "a useful tool in managing risk in large venues" - but that there needed to be "close cooperation and coordination" with businesses.
The Scottish Tories voted against the proposals despite the Conservative UK government planning to introduce a similar system.
Leader Douglas Ross said
not enough detail had been provided about the Scottish scheme, and that the government should not be asking MSPs to "impose" a vaccine certification scheme on establishments it was not able to define
.
He said:
"A responsible government should bring forward proposals that are able to be enacted.
"We are in a really difficult position as politicians seeking to make a decision on an extremely difficult subject if the government cannot even give us simple information."
Scottish Labour also opposed the plans, with deputy leader Jackie Baillie saying there was a "practical question about the government's ability to even implement this".
Comment:
One of the saving graces about a ponerized political class is the inevitable rise of incompetence hierarchies, which results in their schemes repeatedly failing to achieve what they set out to do. The UK's £37
billion
Test & Trace app is a startling example, but attempts elsewhere in rolling out these Covid IDs reveal similar problems:
Vaccine passports backfire - the case of Israel shows that
'Illiberal course'
She said
people with a vaccination certificate could still have the virus and be infectious, saying ministers were in danger of giving people a false sense of confidence that they were "invincible"
.
Ms Baillie said the government should "not simply reach for anything just to be seen to take action, and end up making things worse".

Comment: Almost no one was calling for injection IDs, some ministers even promised that they would not implement them, so any claim that these prison passes are being rolled out simply so the authorities can be seen to be doing something is disingenuous at best.


And
Alex Cole-Hamilton said his Scottish Liberal Democrats were "fundamentally opposed to the plans, which he said set the country on a "disturbing and illiberal course".
He added: "
Medical ID cards will be introduced by this coalition tonight and liberals will immediately begin the campaign to see their abolition."