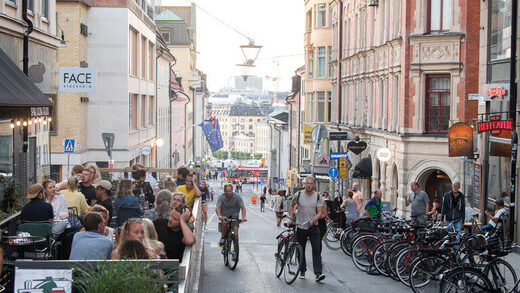 Sweden did not adopt a nationwide lockdown so as to avoid long-term "pandemic fatigue" among the population, according to the director general of the country's National Board of Health and Welfare.
"We did not choose the path of a complete lockdown of society, because
we had other arguments for a systematic response to a pandemic
," explained Olivia Wigzell. The official was speaking at the conference 'Pandemic 2020: Challenges, Solutions, Consequences' held in Moscow this week.

Comment: Apparently most countries hadn't included nationwide lockdowns in their contingency plans either, and yet, all of a sudden they all locked down, and continue to do so, taking oddly similar measures as each other that previously weren't even considered as a reasonable response.


"We were very afraid, we feared that people would develop such a pandemic fatigue, that people would get tired of restrictions. But in Sweden, practically everyone followed the recommendations," she added.
Sweden famously bucked the trend around the world and opted not to impose a statewide lockdown
to prevent the spread of coronavirus among its population.
Schools, gyms, bars and restaurants remained open with minimal restrictions in place and a more laissez faire,
voluntary approach adopted to public health guidance
such as social distancing and the wearing of masks.
Comment:
In other countries riot police were
deployed
, houses were
raided
, people were
imprisoned
,
drones
went hunting for 'offenders' on a country stroll - the dystopian bingo list goes on and on.
Office staff and university students worked remotely where possible and at-risk groups were advised to stay home or to limit their social interactions in public.
Wigzell claimed that, throughout the pandemic,
Sweden reinforced its healthcare system while keeping between 30 and 40 percent of its beds free
, with ventilators available if needed, to accommodate any and all surges in coronavirus patients.
Comment:
Meanwhile those countries that locked down left hospitals
empty
while at the same time setting up emergency hospitals that also lay
empty
, resulting in an excess death
count
that could
reach
75,000 in the UK alone. Although that figure has yet to be tallied and is likely to be much higher.
Meanwhile, one young woman has gone viral on social media after sharing a video of what life in Sweden is like during the pandemic.
The video, apparently taken in Stockholm on Monday, shows commuters on a train in remarkably close proximity to one another, with almost no one wearing a face mask or covering of any kind, in stark contrast to cities across the world.
Reaction to the video was one of consternation and longing for a bygone, pre-Covid-19 era.
In several areas in Spain and Italy for example, the wearing of face masks is compulsory at all times when out in public.
Meanwhile, in the US, Australia and some
European
countries, there have been multiple instances of violence among the population or perpetrated by the police in the name of enforcing the wearing of masks.