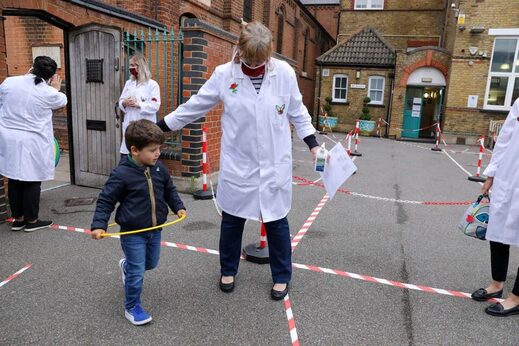 Children have been returning to school withdrawn, disturbed and traumatized, the head of London's biggest academy chain warned today.
Sir Daniel Moynihan, CEO of the Harris Federation, said
some children have been severely damaged by the lockdown and have gone backwards in their emotional development
.
The Harris Federation runs 48 schools, meaning it educates one in every 41 pupils in London.
Sir Daniel told BBC Radio 4's Today program: "It's fair to say many children have been severely damaged educationally by this necessary shutdown.
"We have had a number of traumatized youngsters.
Our schools are in very disadvantaged areas of the capital city and many of them have very difficult lives already, and this has worsened the situation.
"
Children in Reception, Year One and Year Six are back at primary school, and some Year 10 and 12 pupils are back at secondary school.
Most others are unlikely to return until at least September, and have already been off for about 12 weeks.
Sir Daniel added: "With the children that have been coming in, some have been very withdrawn, some have been disturbed.
"They have missed interaction with their friends. They haven't only gone back in learning, they have gone backwards in emotional development as well."
About 800 teachers at Harris Federation schools have undergone specialist training in managing mental health. A further 10,000 teachers have been trained in mindfulness.
Sir Daniel said: "Whatever the return to school is in September it will look different for some months as we try and get back to normal routines and normal systems, and schools will need to cope with all sorts of issues that perhaps have not been so prominent in the past."
There is increasing pressure on the Government to get children back to school.
More than 1,600 paediatricians have added their voices to the call to reopen schools, saying there is a risk of "scarring the life chances" of a generation of children if they remain shut.
In an open letter to the Prime Minister, signed by members of the Royal College of Paediatrics and Child Health, they said vulnerable children were suffering while schools were shut. They fear for the impact on children's mental health and the loss of educational achievement.
The letter said: "School is about much more than learning. It is a vital point of contact for public health services, safeguarding and other initiatives. For many children and their families, these interventions are the difference between surviving and thriving."
The government is set to announce its plans to help children catch up on lost learning. It is expected to include a year-long national tutoring scheme.