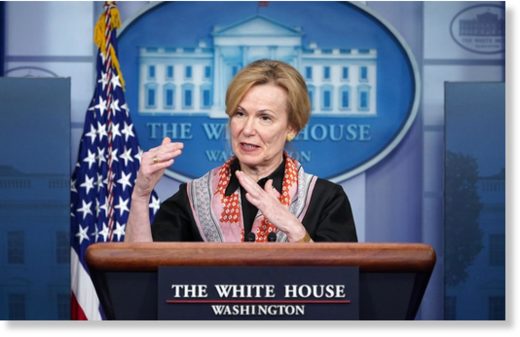 Web site that tracks actual hospital beds in use suggests the model used by top White House health officials to project the trajectory of the coronavirus has so far overestimated the number of Americans hospitalized by the disease by tens of thousands.
Those projections, popularly known as the "Murray" model after the model's lead author, University of Washington professor Christopher Murray, were
explicitly cited
by Dr. Deborah Birx, the response coordinator for the White House's Coronavirus Task Force, at a press conference in the last week.
Birx told reporters that Murray's model, which predicts a shortage of tens of thousands of hospital beds throughout the country by the middle of April, underscored the task force's "concern that we had with the growing number of potential fatalities" based on the model's projections.
Yet a comparison of actual hospitalized patients by state and nationally suggests the model has so far overestimated the number of beds needed to treat pandemic patients.
The forecast
predicted
, for example, that the United States would need around 164,750 hospital beds for COVID-19 patients on Saturday. Yet the COVID Tracking Project, a team of journalists and data analysts who collect and tabulate coronavirus data from state tallies around the country,
reported
only around 22,158 currently hospitalized coronavirus patients nationwide on Saturday.
The discrepancies are also stark when looked at on a state-by-state basis. The model estimated that 65,434 patients would need hospital beds in New York State on Friday. In reality, there were
15,905
hospitalizations in that state by Sunday morning, according to the COVID Tracking Project.
Notably, the model touts its predictions as occurring under "full social distancing" through May of this year, meaning the projected hospitalizations are meant to occur even with significant quarantine measures.
It is unclear why the model's numbers are so significantly higher than the actual numbers observed in hospitals across the country. Officials have offered explanations for various model fluctuations ranging from data assumptions to the impact of stay-at-home orders.
White House officials did not respond to requests for comment from Just the News.
But at a White House press conference on Saturday, Birx said that coronavirus modelers are "re-evaluating all of their models in light of the level of the impact of the mitigation."
"Just to be clear, we won't know how valid the models are until we move all the way through the epidemic," she said.
Dr. Anthony Fauci, meanwhile, reportedly said during a recent meeting that disease models "don't tell you anything. You can't really rely upon models."
Fauci has elsewhere indicated a preference for overestimating the possible effect of the coronavirus pandemic in the United States, telling reporters in March: "I think we should be overly aggressive and get criticized for overreacting."