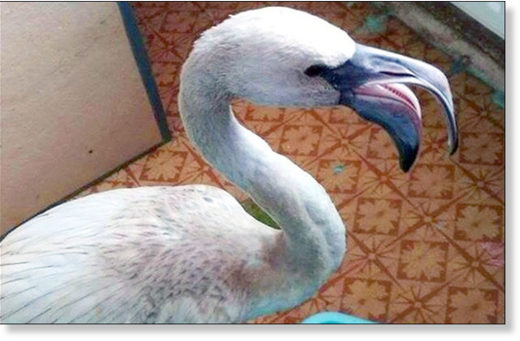 The flamingo was on its annual migration, but lost the rest of its flock.
Experts believe it took a wring turn after flying from Kazakhstan to the Arabian peninsula, a distance of some 3,400 kilometres.
Instead the young bird got so cold it 'froze in the air' and crash landed on a road in the Novokuznetsky district of Kemerovo,
some 1,300 km in the wrong direction.
Locals picked up the forlorn bird and warmed it in the car before giving it a temporary home beside a bathroom radiator.
Later the bird was moved to the young green rangers club in Novokuznetsk.
A club worker said: 'Unfortunately, we are not capable of taking care of a flamingo for long. We have already contacted Kuznetsky Alatau nature reserve, and our unexpected guest will go to live there in a week.'
The good news is the flamingo is enjoying Siberia after the initial cold shock.
'He is healthy, he has a great appetite and is proudly walking around our premises.'
Rescuer Lyudmila Karabanova said: 'Something went wrong with the migration.
'The long and warm autumn may be a reason. Siberia usually has only bears and bears - and now flamingos are flying here in winter'.
It is likely the bird took off around Tengiz Lake in Kazakhstan - and was heading for Saudi Arabia, but took a potentially catastrophic turn northeast instead of southwest.
After flying around 1,300 km, the flamingo made its bumpy landing on the Kemerovo road.
Siberian expert Irina Vorontsova said flamingos can get muddled.
'It happens that sometimes a bird is not strong enough, and it goes astray, flies in the wrong direction,' she said.
Birds have been known to get frostbite and die.
This one had a lucky escape.