Following Friday's announcement by Sen. Susan Collins (R-ME) that she would vote to confirm Brett Kavanaugh to the Supreme Court, the left flipped on one of its recent heroes; Michael Avenatti.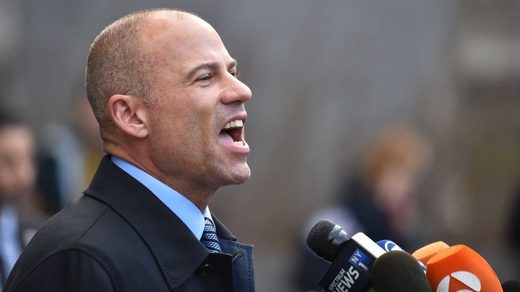 In a fiery speech announcing her decision, Collins ripped unsupported claims by Avenatti's client, Julie Swetnick, that Kavanaugh facilitated a Cosby-esque "gang rape" operation while in high school.
Some of the allegations levied against Judge Kavanaugh illustrate why the presumption of innocence is so important. I am thinking in particular not of the allegations raised by Professor Ford, but of the allegation that, when he was a teenager, Judge Kavanaugh drugged multiple girls and used their weakened state to facilitate gang rape.

This outlandish allegation was put forth without any credible supporting evidence and simply parroted public statements of others. That such an allegation can find its way into the Supreme Court confirmation process is a stark reminder about why the presumption of innocence is so ingrained in our American consciousness. -Sen. Susan Collins
As a result of Collins citing Swetnick's claim,
liberals began to pile onto Avenatti - blaming him for Kavanaugh's impending Saturday confirmation, while conservative pundits poked fun.
While Christine Blasey Ford's groping allegation may have been believable - and enough to derail the nomination, subsequent claims against Kavanaugh likely derailed what little legitimacy Ford had.
CNN's breaking news editor, Kyle Feldscher, took a swing at Avenatti - blaming him for Kavanaugh's confirmation in a tweet which reads: "Hard to state how much Avenatti's entrance into this process hurt the Democratic effort to bring down Kavanaugh's nomination." (
h/t Josh Caplan @ Breitbart)
Avenatti responded: "You are right. I should have turned my back on my client. Told her to "shut up" and stay quiet because people like you apparently believe assault victims are to blame. This line of thinking is disgusting and offensive to all survivors. And it makes lawyers not want to help them."
Feldscher replied: "Literally never suggested that, but have a good weekend sir."
Update:
As
CNN
now reports, Senate Democrats are also jumping on the anti-Avenatti bandwagon.
A host of Democratic senators and senior aides told CNN that the allegations from Avenatti's client gave the GOP an opening to conflate -- and dismiss -- all the allegations in one broad brush.

"Well you know at some point there were a lot of folks coming forward making all sorts of accusations," said Sen. Gary Peters, a Michigan Democrat, when asked about the allegations raised by Avenatti and his client. "It turns it into a circus atmosphere and certainly that's not where we should be."

Asked if Avenatti was helpful, Peters said: "I think we should have focused on the serious allegations that certainly appeared very credible to me that would be our best course of action."

Privately, the assessment was far more scathing.

"Democrats and the country would have been better off if Mr. Avenatti spent his time on his Iowa vanity project rather than meddling in Supreme Court fights," a senior Senate Democratic aide fumed, referring to Avenatti toying with the idea of seeking the Democratic presidential nomination. "His involvement set us back, absolutely." -CNN
One can imagine that Avenatti vs. Trump in 2020 is no longer in the cards...