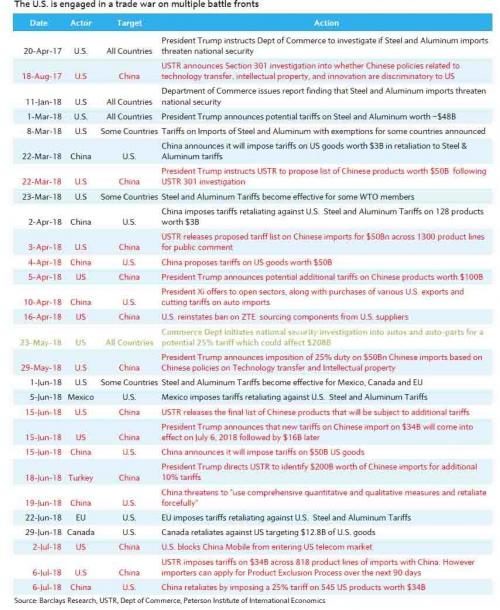 A few weeks ago,
SocGen asked
what is arguably the most important question relating to the global trade wars:
are tariffs inflationary or deflationary
? While there were various nuances, its conclusion was simple:
"Inflationary short term, disinflationary medium term.
"
It appears that the "short-term" part has now arrived, because after several rounds of tit-for-tat tariffs and retaliations between the US and China,
American consumers are about to be hit with sharply higher prices as tariffs on industrial metals put pressure on U.S. manufacturers
.
In May, President Trump imposed steel and aluminum tariffs on the EU, Canada, and Mexico to help preserve America's manufacturing base. The response: steel and aluminum prices have risen 33% and 11% respectively since the beginning of the year, as manufacturers began to price in the tariffs.
Moreover, tariffs on additional imported products from China have added even more costs for producers,
which are now being aggressively passed through to the consumer.
"You're going to see higher prices passed on to consumers...almost immediately"
Matt Gold, a former deputy assistant U.S. Trade Representative for North America under former President Barack Obama, told
CNBC
. "A lot of goods are already warehoused that were imported months ago, so it takes a bit of time to catch up, but prices catch up pretty fast," he added.
"The way it works is that a U.S. importer pays the taxes to the customs duties or customs tariffs to the U.S. Treasury," Gold explained. "Of course, that's going to effect the sale price [and] whatever price at which the exporter sells to the importer is going to lower, because the importer has to pay duties in addition to paying the purchase price."
Gold added that for American consumers, those soaring costs would be spread "really across the board. With Chinese retaliatory tariffs, we've imposed those on $34 billion of different goods coming from China. It's a very broad array of consumer products, industrial products."
"So everything from the person who walks into Walmart is going to pay higher prices as well as the manufacturer buying material imports for their manufacturing processes," the former official added.
To be sure, the
latest Markit PMI
already warned about the threat of sharply higher prices, noting that "
July saw the steepest rise in prices charged for goods and services yet recorded by the surveys as firms passed rising costs on to customers, in turn frequently linked to tariffs."
And here's why.
This month, Winnebago Industries warned that the recreational-vehicle boom seen in the last several years could have popped: "We've had to go to the market a bit more frequently and a bit more aggressively with some price increases as of late," said Michael Happe, chief executive of recreational-vehicle manufacturer Winnebago Industries Inc, who spoke with
The Wall Street Journal
.
Happe did not disclose how much the tariffs would affect prices but said the company had made changes such as altering recreational-vehicle floor plans to decrease costs.
The CEO of the Iowa-based company said that it has benefited from the recent recreational-vehicle boom. However, trade tensions and rising inflation could lead to a gloomy outlook for the company. "Uncertainty is never a great thing for the economy
and the more noise there is there's a risk that consumers will press pause,"
he said.
Polaris Industries is another recreational-vehicle company raising prices on its vehicles including boats, motorcycles, snowmobiles to cover $15 million of the $40 million in tariff-related charges to pay for steel, aluminum, and components from China this year. The company is facing severe headwinds from retaliatory tariffs from other countries on products it exports from the U.S., including the Indian-brand motorcycles it ships to Europe.
In a move that is sure to infuriate President Trump,
CEO Scott Wine said he could soon move production facilities of road bikes that it sells in Europe to Poland from Iowa to avoid European Union tariffs.
Last month,
Harley-Davidson announced similar plans in June to move production to Europe
, which drew substantial criticism from labor unions and the wrath of President Trump. Harley's CEO Matt Levatich said last month that the transition would help keep costs down for its motorcycles in Europe and escape Trump's tariffs. "We made the best decision given the circumstances," he said last week.
His decision will soon be copied by dozens of other US manufacturers who face the challenge of keeping profits high amid sharply higher costs.
And while tariff costs for recreational-vehicles are slowly but surely being passed along to the American consumer, at least these are highly discretionary purchases for members of society's upper-middle and top income class, and as such the hit to their wallet will be manageable.
But what's worse is that far more Americans are about to suffer rising prices on their purchases of key staples.
Last week, Coca-Cola CEO James Quincey said tariffs are going to inflate drink prices.
"Clearly it's disruptive for us. It's disruptive for our customers," Quincey said. He believes distributors and retailers will pass along increased prices to consumers in the third quarter.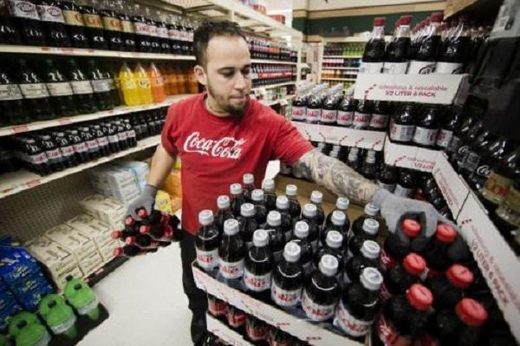 Beverage inflation is not just coming to soda,
executives at Sam Adams brewer Boston Beer warned their prices could move up 2 percent this year.
"At some point, increased commodity costs have to be passed through to some extent," Chief Executive Jim Koch said in a recent earnings call.
And it appears that that time is now.
Industrial manufacturer Lennox International has also dramatically increased prices of its heating, ventilation, air conditioning, and refrigeration products because of the tariffs. The company has raised prices twice this year to cover an additional $50 million on steel. Lennox said it expects to pay $20 million more for freight and $5 million for tariffs on components from China this year.
"We haven't seen any pushback on the price," Lennox CEO Todd Bluedorn said on an investor call last week, although he probably should have added the word 'yet.' Bluedorn noted that he was not alone and all of his competitors have announced similar price increases.
The list goes on.
Office furniture producer Steelcase also raised prices in June for the second time this year as base metal prices accelerated.
"It's been a long time, if ever, that we've done two price increases back to back as quickly as we did,"
Chief Executive James P. Keane said.
Meanwhile, the agriculture industry and farmers, especially of soybeans, have been crushed by retaliatory tariffs.
Last week, the USDA issued a proposed $12 billion bailout for U.S. farmers: the farmer subsidy would include direct payments to soybean, corn, wheat, cotton, dairy, and pork producers impacted by tariff retaliation.
So with the 2018 Midterm Elections in sight, President Trump's trade wars are hurting potential republican voters right where it hurts the most: in the wallet, and the higher prices are spreading to increasingly more goods and services. As a result, consumers are forced to dip into their savings and spend on credit to survive as the prices of goods soar.
The lingering question ahead of the elections is whether Americans will vote with their empty wallets or continue the status quo. One answer came last week from Iowa farmers, who criticized President Donald Trump's $12 billion farm aid package and worried about trade wars impacting their business, yet
many still turned out to support him
on Thursday during a visit to the top corn-producing state.
Trump may be taking on fights with too many trading partners at once, said Bob Weber, a corn farmer in nearby Bellevue, Iowa. But Weber still turned out to watch Trump, for whom he voted, land on Air Force One.

"What he's doing is right but he might be doing too much at the same time," Weber said.
Meanwhile, others suffering farmers continue to give Trump the benefit of the doubt:
BJ Reeg, a farmer in nearby Bellevue, worries that trade tensions have hurt prices for the soybeans he grows and meat he produces from cattle.

"This trade war thing, it has to be done," Reeg said as he leaned on his silver pickup truck. "In the long run, it's gonna be good, if a guy can hang on."
Come November, the answer to how much longer "
a guy can hang on
" could mean all the difference for Trump and the GOP, especially now that billionaire industrialist and prominent Republican donor, Charles Koch,
announced
that he himself can barely "hang on" for much longer, and warned that the greater the level of trade restrictions, the greater the risk of severe economic fallout: "Every nation that's prospered is one that didn't engage in trade wars," he said. Just how Koch plans on making his policy displeasure known to Trump remains to be seen.