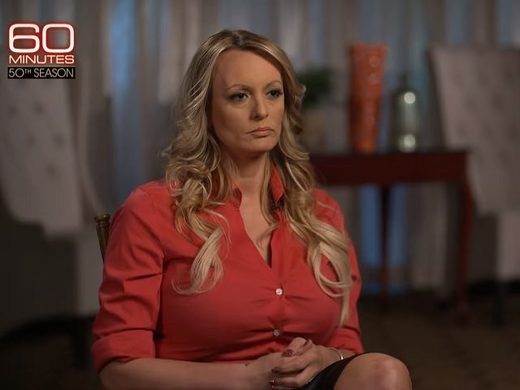 In what her attorney has labelled a 'politically-motivated' sting Stormy Daniels has been arrested at an Ohio strip club for touching undercover officers' breasts and buttocks during a performance.
The former porn star, who is known for claiming she was paid hush money to keep quiet about an affair with President Donald Trump, was performing at the Sirens Gentlemen's Club in Columbus when she was arrested in the early hours of Thursday morning.
Daniel's crime was touching patrons during her performance, some of whom were undercover cops. Ohio has an unusual
law
aimed at sexually-oriented businesses which prohibits both patrons and performers from touching one another.
Police inside the club reported seeing Daniels smacking patrons with her bare breasts and that she touched the breasts of female patrons. When officers approached her, she reportedly held a female officer's face between her breasts and fondled another officer's breasts and buttocks, 10TV
reports
.
"My client Stormy Daniels was arrested in Columbus, Ohio, while performing the same act she has performed across the nation at nearly a hundred clubs," Daniels' attorney Michael Avenatti wrote on Twitter. "This was a setup and politically motivated."
Daniels was charged with three misdemeanor counts of illegally touching a patron. She posted bail and was released. The Community Defense Act was passed in 2007 and also bans nude or topless dancing between the hours of midnight and 6am.
Daniels is in the midst of a legal case with Trump in which she is seeking to get out of a non-disclosure agreement about their affair. She also filed a defamation suit against the president in 2011.