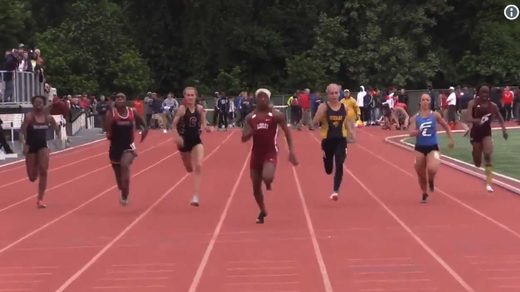 The war on reality continues.
A
story
from a Connecticut high school earlier this month reports how a male to female transgender track and field athlete broke two state records.
On Monday, when Connecticut had its State Open track and field championships at Willow Brook Park, one person broke the State Open records for girls in both the 100 and 200-meter runs.

That person was a biological boy.
In the videos accompanying this story, one can clearly see how being born a biological male gives this athlete a significant physical advantage. The races are hardly even close. In the 100m race, the second place finisher was also a male to female transgender, and as a result of these two boys occupying the first two positions on the podium, two hard-working, talented, legitimately female athletes were denied an opportunity to compete in an upcoming bigger New England area competition.
As late as the winter of 2017, this newly female, now double record-breaking runner, Terry Miller, was competing on the high school boys team. While allowing for a genuine desire to change gender, we can't avoid the possibility that another factor in the decision was that this student wasn't as successful as he would have liked, and perhaps got tired of losing to runners in his own proper physical category. In that scenario, the
cause célèbre
of transgender activism was used to essentially cheat his way into the winners circle.
One cannot help but feel sorry for those unfortunate girls who are forced by
insane and delusional state laws
to compete against biological boys in their chosen sport. Understandably, several concerned parents of the girls affected have
started petitions
to reasonably limit gender segregated sports to a person's biological sex at birth, in order to ensure a fair and level playing field for all participants. That didn't stop the mainstream media tabloid,
USA Today
, from reporting on the parents' concerns as an attempted "
ban against transgender athletes
".
When Ideology Trumps Reality
Many on the progressive side of the political spectrum would claim that a person can identify as whatever gender
they feel like
, regardless of their biological sex at birth,
as long as it doesn't harm anyone else
.
But the truth is that these so-called
trans-female athletes are hurting people
. The young girls who have trained and worked hard to earn a place in further competitions will be denied this special opportunity because some dude with mediocre athletic ability and a rather tentative grasp on reality decides one day that he wants to be a girl.
Popular Youtube vlogger
Matt Christiansen
does an excellent summary of the situation
here
.
What is perhaps most surprising about this push towards transgender acceptance, is how the movement has been embraced by radical feminists under the guise of tolerance, diversity and inclusivity. Those left-leaning activists who are supposedly working towards empowerment and equality for women have completely undermined their movement by adopting the pernicious "anyone who feels like it can be a real woman" narrative. If any man can be a woman at any time, what does it mean to be a woman at all?
Post-modern influenced subjectivism collapses under the weight of its own absurdity.
However, like many factions on the left competing for ultimate victim status, ideological subgroups are now turning against each other in a cannibalistic frenzy. There is a group of radical feminists who vociferously oppose the inclusion of men in dresses into their definition of what it means to be female. These ladies are known as TERF's (or Trans-Exclusionary Radical Feminists) and they made the news
earlier this year in Vancouver
.
The Sport of Politics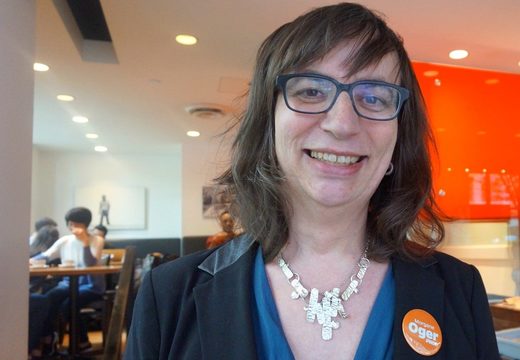 One such TERF activist
found herself in hot water
at a local #MeToo women's march when she sparked the ire of transgender politician Morgane Oger, by carrying a sign which read...
"Transwomen are men. Truth is not hate. Don't believe the hype — trans ideology is misogyny and homophobic. Woman is not a 'feeling,' a costume, or a performance of a stereotype. Woman is a biological reality. There is no ethical or moral reason to lie to soothe the male ego."
Oger, the BC candidate for the province's NDP party, sent out a series of hysterical
tweets
asking her supporters to expose this woman's personal information online and threatening her with discrimination and human rights lawsuits.
Ms. Oger, an obvious attention whore with deep seated psychologically-distorted identity issues,
made news again
last week when an activist judge ruled against a Christian protestor who distributed leaflets during the last provincial election questioning her imaginary transgender status...
"Ms. [sic] Oger was a candidate in the 2017 provincial election. During her [sic] candidacy, Mr. Whatcott distributed hundreds of flyers in her [sic] riding. The flyers were titled 'Transgenderism vs. Truth in Vancouver‐False Creek.' They described Ms. [sic] Oger as a 'biological male who has renamed himself... after he embraced a transvestite lifestyle.'

"Ronan is running for the NDP in the Vancouver-False Creek riding and BC's media and the NDP are promoting a false narrative that Ronan is a woman born into a male body," the flyer explained.

"But the truth is Ronan's DNA will always be male, he will never have a uterus, and no amount of cosmetic surgery, fake hormones, or media propaganda is going to be able to change those facts," the flyer continued.

Whatcott stated in his flyer his concern "about the promotion and growth of homosexuality and transvestitism in British Columbia and how it is obscuring the immutable truth about our God given gender." He called switching gender an "impossibility," adding that it exposes people to harm.

Oger, who lost the election, filed a complaint with the B.C. Tribunal in May, 2017, alleging that Whatcott's flyer was "discriminatory" and exposed transgender people to "hatred and contempt."

When Whatcott and his lawyer attempted to defend the truth of the flyer, namely that Oger was, in fact, a biological male, Tribunal member Devyn Cousineau would have none of it.

Cousineau ruled that

"the 'truth' of the statements in the flyer is not a defence."
It is a sad day for democracy and society as a whole when the 'Truth' can no longer be used as a legitimate defence in a public court.
Trans-Degeneracy Abounds
And since today is Father's Day, there's this
heartwarming story
coming from CNN...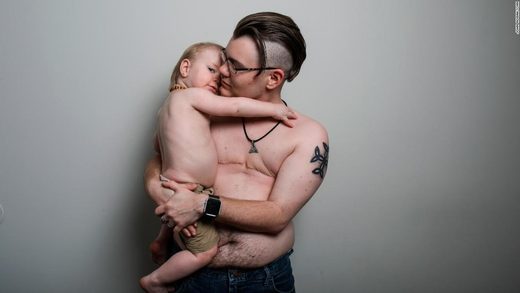 He gave birth. He breastfed. Now, he wants his son to see him as a man. [...]

Sabastion, 24, is a transgender man who lives with his wife Angel in suburban Atlanta. Assigned the female gender at birth, he began transitioning five years ago . It's a process that felt more complete last month when he had surgery to remove his breasts.
That poor child. What fresh hell awaits him in this life?
Make no mistake, with all this gender-bending, fluid-identity subjective progressive nonsense creeping its way into our society and being lawfully forced upon the public by ideological possessed liberal elites, the left is playing a very dangerous game. It is a game whose disastrous repercussions are not only likely but as history shows, deadly and inevitable.
A game with no winners at all.