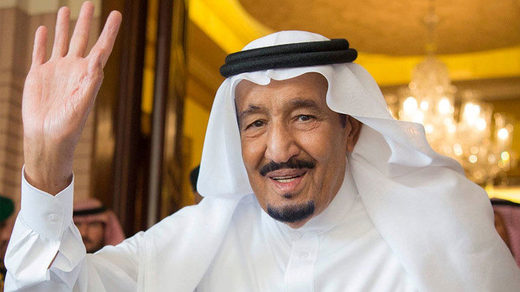 The Saudi King also blamed Tehran for the ballistic missile strikes carried out by the Yemeni Shiite rebels which have been targeting his country.
"We renew our strong condemnation of Iran's terrorist acts in the Arab region and reject its blatant interference in the affairs of Arab countries,"
Saudi King Salman said during a speech in Dhahran, eastern Saudi Arabia at the summit of the Arab League.
He also blamed Tehran, which has repeatedly denied supplying ballistic missiles to Yemen's Houthi militia, of being responsible for the rebels' attacks targeting the Kingdom. Salman said that the missiles being launched from Yemeni territory were "produced in Iran."
Commenting on the US embassy's relocation to Jerusalem, a decision which has been fiercely condemned by Arab states, Salman denounced the move. "We reiterate our rejection of the US decision on Jerusalem," the royal said. "East Jerusalem is an integral part of the Palestinian territories," he added.
Salman announced that Riyadh would be making a $150 million donation to East Jerusalem.
Riyadh earlier welcomed the US, British and French strikes against Syria on April 14.
The Foreign Ministry issued a statement saying that it "fully supports the strikes...because they represent a response to the regime's crimes."
Tehran broadly condemned Saturday's Syria attack. Iranian Supreme Leader Ali Khamenei called the US, British and French leaders "criminals," adding that they would "gain nothing" from the strikes.
King Abdullah II of Jordan told summit attendees that the Arab countries were in favor of a political settlement to the conflict in Syria.
The 29th summit of the Arab League in Dhahran opened on Sunday. The main issues of the summit are expected to include Syria, the Palestinian issue, the situation in Yemen, and Iran's alleged interference in the affairs of Arab states. Syria was suspended from the Arab League in 2011 over the ongoing conflict in the country and accusations of war crimes by the government. In 2014, the Arab League said Syria's seat would remain vacant until the opposition formed their own parallel institutions.
Saudi Arabia has led a military operation in Yemen since March 2015 aimed at restoring the government of Abdrabbuh Mansur Hadi, who was toppled in a series of uprisings in 2014 and 2015 led by the Houthi rebels.
The operation has suffered a series of setbacks recently, with Houthis reportedly launching ballistic missiles, attacking coalition warships, and launching drone strikes at Saudi oil facilities and military bases.
Last week, Saudi media reported that air defenses in Riyadh intercepted a Houthi missile. Saudi Arabia and its US allies have repeatedly accused Iran of providing military support for the rebels, a claim which Tehran has
denied
, citing the blockade against Yemen initiated by the Saudi-led coalition.