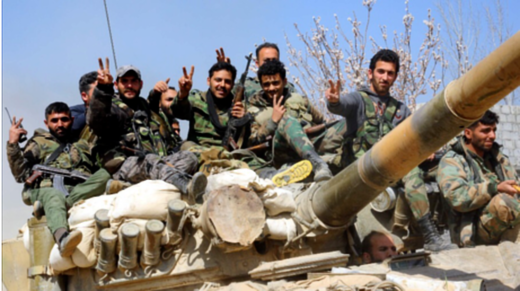 Syrian forces have liberated all militant-held settlements in the Damascus suburb of Eastern Ghouta, the military command said in a televised statement. A major Syrian motorway has been unblocked for the first time in seven years.
"After a set of carefully planned battles and operations carried out by our armed forces in cooperation with loyal and allied troops, the control over all the towns and settlements in the Damascus suburb of Eastern Ghouta has been restored,"
a Syrian Army statement said, as cited by Sputnik news agency.
The army has also lifted the blockade of a main highway connecting the Syrian capital to the rest of the country, the statement said, as cited by SANA state news agency.
"The victory in Eastern Ghouta ensured opening of the main routes between Damascus and central, northern and coastal regions, and all the way to the Iraqi border,"
it said.
Syrian forces managed to defeat the militant groups holding Ghouta after their headquarters, ammunition depots, fortifications and weapons factories were destroyed, the army said. It added the military units are continuing the offensive on the outskirts of the town of Douma, driving militants out of the area.
The milestone victory would ensure the "restoration of security and stability in Damascus," and would bring relief to a civilian population that has suffered from "terrorist crimes and sponsors of terrorist organizations over the past several years."
The Eastern Ghouta area has been under siege since 2012. In February this year, Syrian troops began their offensive to liberate the last militant-held stronghold located close to Damascus.
The fighting resulted in a ceasefire and evacuation deals were reached between the Syrians and militant groups.
The humanitarian cessation of hostilities was renewed several times, allowing civilians as well as rebels to safely exit the besieged area.
On Friday, the Russian military said over 143,194 people in total, comprised of 105,857 civilians as well as 13,793 militants and 23,544 members of their families, have left Eastern Ghouta. In the meantime, some 40,000 people have returned to their homes. Those who have returned are receiving aid packages delivered by UN agencies and the Russian Reconciliation Center.