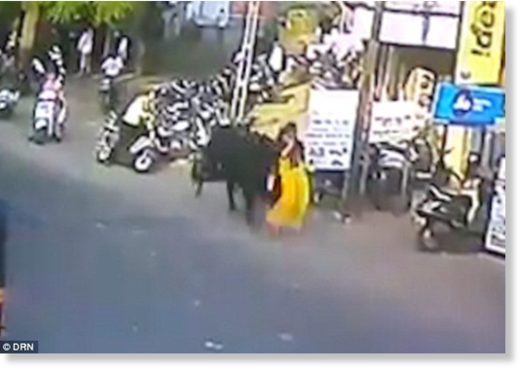 This is the terrifying moment an unsuspecting woman is sent somersaulting in the air after being attacked by a giant bull.
The oblivious victim was walking in the city of Bharuch, in India, today when the stray beast scooped her up by the legs with its horns and tossed her several feet off the ground.
Harrowing footage shows the bull creeping ominously towards its target, ramming a man on a scooter before charging at the lone woman from behind.
Stunned witnesses could only watch in horror as she flipped over in mid-air before crashing into the tarmac.
The bull was then seen casually trotting away as members of the public rushed to the woman's aid.
The shocking 24-second clip was filmed on a nearby store's CCTV camera and shared on social media.
It shows the huge black bull stalking in from the left of the frame as motorists pass by in cars and tuk-tuks, unaware of the pending threat.
The animal appears calm at first as it crosses a road and passes unnoticed between traffic before suddenly launching itself at a stationary moped rider.
The bull then sets its sights on the woman - wearing a yellow and brown dress - and hurls her off the ground with devastating force.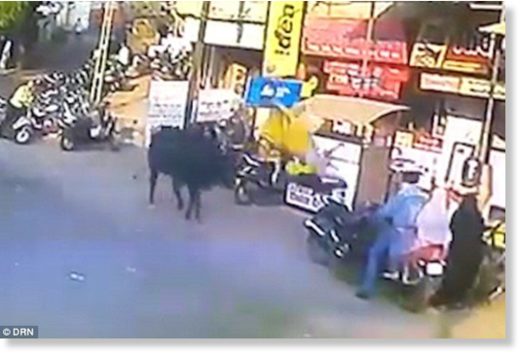 Witnesses watching the footage on a surveillance monitor are heard gasping as she lands flush against the concrete, narrowly missing several parked motorbikes.
The bad-tempered bull then flicks its tail and walks away like nothing happened.
The unnamed victim is being treated in hospital but her condition is not thought to be life-threatening, according to Indian news outlet Gujarati News 18.