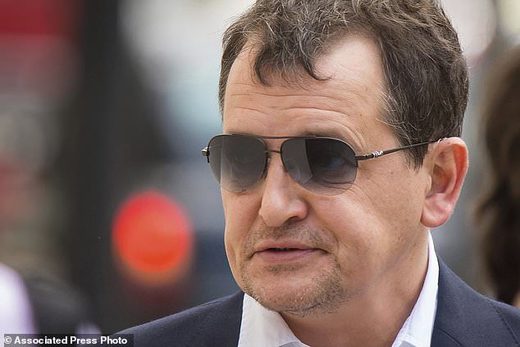 London-based Russian businessman Georgy Shuppe has strongly denied reports of his poisoning, recently published by
The Sun
newspaper. He suggested that British reporters wanted to "agitate everyone" and sow "total panic."
"Nothing of what has happened there was connected with what they wrote in the newspaper.
My illness had complications and I got into hospital. Yes, police were there, they tried to find something, but they found nothing," Shuppe said in an interview with Russian news agency RBC.
Shuppe is a venture businessman specializing in the telecom and internet sectors. He permanently resides in London, as he has been charged in Russia with conspiracy to murder one of his business partners and steal his property. The suspected conspiracy dates back to 2014. In August 2017, a UK court rejected a handover request from Moscow and released the businessman from bail.
He is also a former son-in-law of Boris Berezovsky - the late tycoon who was portrayed by mass media as "the godfather of the Kremlin" and "Vladimir Putin's arch-enemy." Berezovsky died in London in 2013. The police initially recognized his death as a suicide, but later the coroner recorded an open verdict in the case.
Shuppe's comments came after
The Sun
published an article on Monday, alleging that the businessman had been "targeted" and "left fighting for his life" in December 2017 - "weeks before" the poisoning of the exchanged spy Sergei Skripal and his daughter Yulia.
The Sun
also alleged that British police "quietly shut down" an investigation into the incident.
When asked about possible reasons behind the false article, Shuppe said that it was "part of universal panic" that started after the Skripal poisoning, and added that British journalists had apparently decided "to agitate everyone."
"I live, I raise my children and I feel calm. If anything happens to me, it will be of natural reasons. I have already learned to resist and to take care of my own security," the businessman told RBC.
British police also told RBC that they never considered Shuppe's hospitalization in December 2017 suspicious, although they confirmed that they had been duly informed about the incident.
The article containing allegations of Shuppe's poisoning appeared as British mass media and politicians continue to speculate over the poisoning of the former GRU colonel and his daughter in Britain. Evidence reportedly shows that the two were poisoned by a military-grade binary nerve agent. Reporters and officials, including PM Theresa May, hurried to point at Russia as the alleged perpetrator of the attack.
Russian Foreign Minister Sergey Lavrov said on Tuesday that Russia had nothing to do with the poisoning.
"We've made a statement to dismiss this as nonsense. We have nothing to do with this," he said. Moscow also asked that the UK provide access to facts related to the Skripal investigation, but London turned down this request.