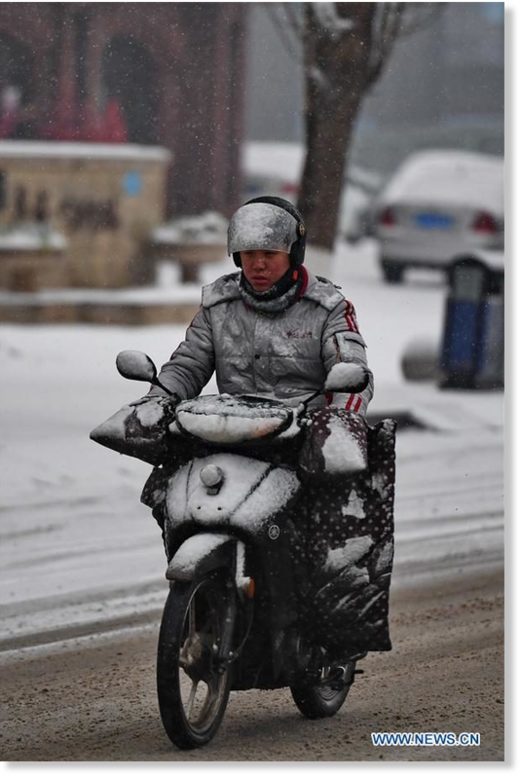 Heavy snow hit northeast China yesterday, causing flight delays and expressway shutdowns and the suspension of school classes.
As of 5:30 p.m., all sections of expressway in northeastern Jilin Province were shut down due to snow,
according to the local expressway authorities, Xinhua reports.
The airport in Changchun, capital of Jilin, was closed. More than 100 inbound and outbound flights were delayed, and some 20 inbound flights have been diverted to other airports.
Rescue workers have been dispatched to clear up snow and ice from roads and at railway stations.
In Liaoning province several sections of 15 expressways were closed or began traffic control due to snow, according to the provincial transportation authorities
Several bus stations also suspended service at several sections of road in Liaoning.
In Harbin, capital of Heilongjiang province, the city's education bureau ordered classes be halted until tomorrow for kindergartens, primary schools and middle schools in nine districts.
The Heilongjiang observatory issued an alert for heavy snow at 11 a.m., forecasting that at least 6 millimeters of snow would fall in the cities of Daqing, Suihua, Yichun, Harbin, and Mudanjiang from 2 p.m. yesterday to 2 a.m. today.
The National Meteorological Center has issued a yellow alert for snowstorms until today in northeast China, including Heilongjiang, Jilin and Liaoning provinces
.
Some areas are expected to see blizzards.
In the country's four-tier, color-coded weather warning system, red is the most severe, followed by orange, yellow and blue.