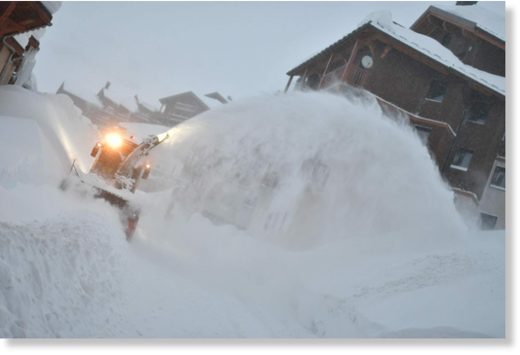 A number of ski resorts in the Alps are currently in accessible as heavy snow either makes mountain roads and rail lines impassable or local authorities close them due to the avalanche danger.
The latest heavy snow, which may deposit a metre of snow at some resorts over the next three days, is

the latest in a series of heavy snowfalls

over the past month
Zermatt announced yesterday evening that it was closing its rail access from neighbouring Tasch due to the avalanche danger at 10pm and this morning said access remained closed for the time being with no end point yet known. Last night they advised arriving skiers to look for accommodation in Swiss cities rather than making the journey up to Zermatt.
It is 10 days since Zermatt was cut off from the outside world by avalanches further down the valley. 13,000 people were unable to leave the resort for several days, causing headlines around the world.
Air Zermatt is organising flights out but the resort announced at 12.30 that flight tickets were sold out for today.
Val Thorens, Europe's highest major resort, closed access from Les Menuires at midnight last night telling people intending to arrive through the night that emergency accommodation was available in Moutiers. It re-opened at 10.15 this morning.
Earlier in the day access to Arc 1950 and 2000 in Les Arcs was closed but this has now re-opened. Neighbouring La Plagne said road access was very difficult.