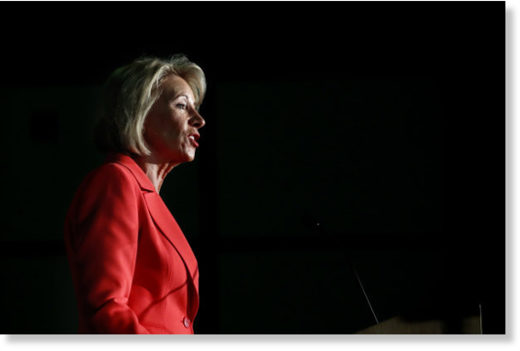 U.S. Secretary of Education Betsy DeVos gave a far-ranging speech today in Washington at an American Enterprise Institute conference, "Bush-Obama School Reform: Lessons Learned."
She announced the death of Common Core, at least in her federal agency.
DeVos also decried the federal government's initiatives to improve education. "We saw two presidents from different political parties and philosophies take two different approaches. Federally mandated assessments. Federal money. Federal standards. All originated in Washington, and none solved the problem. Too many of America's students are still unprepared," she said.
And she touched on a favorite topic, school choice.
"Choice in education is not when a student picks a different classroom in this building or that building, uses this voucher or that tax-credit scholarship. Choice in education is bigger than that. Those are just mechanisms," she said. "It's about freedom to learn. Freedom to learn differently. Freedom to explore. Freedom to fail, to learn from falling and to get back up and try again. It's freedom to find the best way to learn and grow... to find the exciting and engaging combination that unlocks individual potential."
It was a long speech so I have edited it a bit here:
By Betsy DeVos
To a casual observer, a classroom today looks scarcely different than what one looked like when I entered the public policy debate thirty years ago...The vast majority of learning environments have remained the same since the industrial revolution, because they were made in its image. Think of your own experience: sit down; don't talk; eyes front. Wait for the bell. Walk to the next class. Repeat. Students were trained for the assembly line then, and they still are today.
Our societies and economies have moved beyond the industrial era. But the data tell us education hasn't.
The most recent Program for International Student Assessment, or PISA, report, with which you are all familiar, has the U.S. ranked 23rd in reading, 25th in science and 40th in math. And, you know this too: it's not for a lack of funding. The fact is the United States spends more per pupil than most other developed countries, many of which perform better than us in the same surveys.
Of course there have been many attempts to change the status quo. We've seen valiant efforts to improve education from Republicans and Democrats, liberals, conservatives and everyone in between.
The bottom line is simple: federal education reform efforts have not worked as hoped.
That's not a point I make lightly or joyfully. Yes, there have been some minor improvements in a few areas. But we're far from where we need to be. We need to be honest with ourselves. The purpose of today's conversation is to look at the past with 20/20 hindsight, examine what we have done and where it has - or hasn't - led us.
With No Child Left Behind, the general consensus among federal policymakers was that greater accountability would lead to better schools. Highlighting America's education woes had become an American pastime, and, they thought, surely if schools were forced to answer for their failures, students would ultimately be better off.
President Bush, the "compassionate conservative," and Senator Kennedy, the "liberal lion," both worked together on the law. It said that schools had to meet ambitious goals... or else. Lawmakers mandated that 100 percent of students attain proficiency by 2014. This approach would keep schools accountable and ultimately graduate more and better-educated students, they believed.
Turns out, it didn't. Indeed, as has been detailed today, NCLB did little to spark higher scores. Universal proficiency, touted at the law's passage, was not achieved. As states and districts scrambled to avoid the law's sanctions and maintain their federal funding, some resorted to focusing specifically on math and reading at the expense of other subjects. Others simply inflated scores or lowered standards.
Where the Bush administration emphasized NCLB's stick, the Obama administration focused on carrots. They recognized that states would not be able to legitimately meet the NCLB's strict standards. Secretary Duncan testified that 82 percent of the nation's schools would likely fail to meet the law's requirements - thus subjecting them to crippling sanctions.
The Obama administration dangled billions of dollars through the "Race to the Top" competition, and the grant-making process not so subtly encouraged states to adopt the Common Core State Standards. With a price tag of nearly four and a half billion dollars, it was billed as the "largest-ever federal investment in school reform." Later, the Department would give states a waiver from NCLB's requirements so long as they adopted the Obama administration's preferred policies - essentially making law while Congress negotiated the reauthorization of ESEA.
Unsurprisingly, nearly every state accepted Common Core standards and applied for hundreds of millions of dollars in "Race to the Top" funds. But despite this change, the United States' PISA performance did not improve in reading and science, and it dropped in math from 2012 to 2015.
Then, rightly, came the public backlash to federally imposed tests and the Common Core. I agree - and have always agreed - with President Trump on this: "Common Core is a disaster." And at the U.S. Department of Education, Common Core is dead.
On a parallel track, the Obama administration's School Improvement Grants sought to fix targeted schools by injecting them with cash. The total cost of that effort was seven billion dollars.
One year ago this week, the Department's Institute of Education Sciences released a report on what came of all that spending. It said: "Overall, across all grades, we found that implementing any SIG-funded model had no significant impacts on math or reading test scores, high school graduation, or college enrollment."
There we have it: billions of dollars directed at low-performing schools had no significant impact on student achievement.
Read the rest of her speech here...