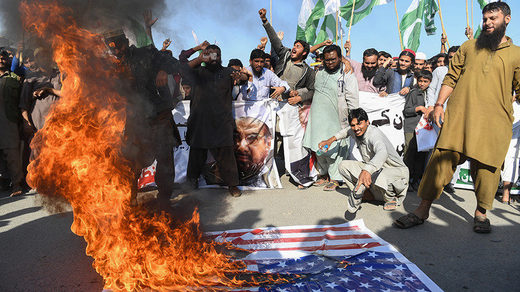 The US State Department has officially cut security funding for Pakistan, saying it will only be restored if Islamabad takes action against the Afghan Taliban and the Haqqani Network.
The aid suspension may amount to $900 million
.
State Department spokesperson Heather Nauert said she could not yet reveal the exact figure, but said the cut was "significant,"and would remain unallocated pending progress. She added that "there may be some exceptions" to the freeze "that are made on a case-by-case basis if determined to be critical to national security interests."
The aid suspension may cover coalition support funds (CSF), which reimburse Pakistan for counter-terrorism operations and account for the majority of US aid. Thus the suspended security assistance could amount to $900 million authorized for Pakistan for the fiscal year 2017, Reuters reports citing Pentagon spokesman Commander Patrick Evans.
Earlier Thursday, in another sign of the frosting relationship between formal allies, the State Department placed Pakistan on a watch list "for severe violations of religious freedom."
On January 1, President Donald Trump
accused Islamabad of offering a "safe haven" for terrorist groups
who are directly engaging US troops stationed in neighboring Afghanistan.
"The United States has foolishly
given Pakistan more than 33 billion dollars in aid over the last 15 years
, and they have given us nothing but lies & deceit, thinking of our leaders as fools," tweeted Trump, referencing the total US aid transfers to the country between 2002 and 2017.
On Tuesday, America's UN Ambassador Nikki Haley confirmed that $255 million in military aid, which was suspended in August last year, would not be transferred to Pakistan. She charged Islamabad with "playing a double game."
Pakistan has accused Washington of being ungrateful for its role in helping the US to wrest control of Afghanistan from the Taliban and Al-Qaeda following 9/11, while its defense minister, Khurram Dastgir Khan, promised a "cold-blooded response" to Trump's measure.
"From our bases you carried out 57,800 attacks on Afghanistan... Thousands of our civilians and soldiers became victims of the war

initiated by you

,"
wrote Foreign Minister Khawaja M. Asif in a missive to the US president on Twitter.