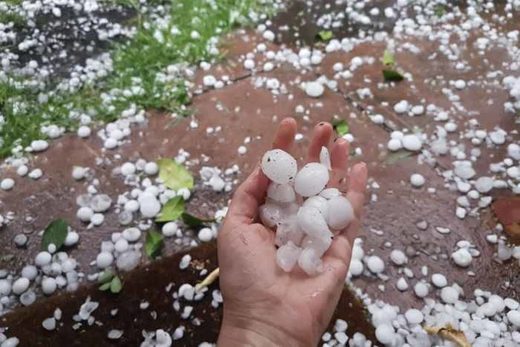 Victorians are cleaning up after severe thunderstorms swept across the state, bringing strong winds and rain that has damaged houses and uprooted trees.
The State Emergency Service (SES) said they had received hundreds of calls for assistance after storms brewed on yesterday afternoon.
A severe thunderstorm warning for damaging winds, heavy rain and large hailstones remains current for much of the state.
More than 30,000 homes properties are still without power, down from about 100,000 around the state last night.
Power was also out in parts of suburban Melbourne but the impact was far less significant.
The weather bureau's Dean Stewart said Melbourne received 20 millimetres of rain within 15 minutes, causing flash flooding in many suburbs.
"The highest wind gust in the state was up at Kilmore Gap to the north of Melbourne - 117 kilometre per hour -
but a lot of towns reported gusts over 100kph
, [followed by] Wangaratta with 113kph, Bendigo 111kph, Mangalore 107kph, Laverton 98kph," he said.
A fierce storm battered Mildura and parts of Victoria's north-west as a cool change brought strong winds and a dramatic temperature drop to Melbourne.
More than 100 calls for assistance were made to the State Emergency Service (SES) in Mildura alone, stretching the town's resources and leading for a request for back-up from CFA volunteers.
Wind gusts of 89 kilometres per hour were also recorded in Mildura and a number of buildings were damaged in the area, including at Merbein and Irymple.
One house in Merbein lost its roof, while grape vines were blown over at Curlwaa.
Large hail fell in eastern suburbs, including Mitcham and Narre Warren. A number of suburbs also experienced flash flooding.
Trams in the city were interrupted by flash flooding and lanes were closed on CityLink, while some metropolitan and regional train services were also delayed.
Shops at Highpoint, one of Melbourne's busiest shopping centres, were flooded.
Swan Hill reached 41 degrees Celsius, while Mildura hit 39 degrees as the north-west of the state sweltered through hot and humid conditions.
Melbourne sweltered through a hot night, falling to just 24 degrees at 12:38am, and reached a maximum of 37 degrees just before 3:30pm.
But when the cool change hit the CBD about an hour later,
the temperature fell 12 degrees in 10 minutes.
Very dangerous winds could hit Western Port, the Mornington Peninsula and parts of Port Phillip, with possible winds of over 125 kilometres per hour.
Residents in Werribee, in Melbourne's west, said the suburb had experienced very strong wind gusts, while buildings have been damaged in Tarneit.
There are reports of a number of trees down across the state.