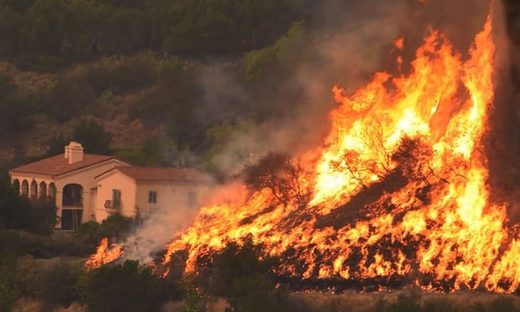 It's still wildfire season in California. If you're wondering when the season ends, it's November 20th, although as you may have noticed, it's still going strong. In fact, for the last decade or so, California's 'new normal' is that wildfires continue erupting
for an extra two months
, and this year they may burn well past that into February.
New evacuation orders were issued this past weekend in Santa Barbara County, making downtown Santa Barbara
a virtual ghost town
as the Thomas fire moved closer. Wind gusts of up to 60mph pushed what is now
the
third-largest wildfire in California's history
towards Montecito, the wealthiest city in Santa Barbara County. The rich and famous - like Oprah Winfrey and Ellen DeGeneres - have fled too, but fear not,
their homes are less likely to burn
because
they pay private insurance to hire private 'concierge firefighters' to protect their homes
.
Fire officials said Saturday that the Thomas fire, which started December 4, had now burned nearly
105,000 hectares (400 square miles)
, leaving a footprint larger than those of some cities. The fire is said to be about 40 percent contained, but fire officials added that about 18,000 structures remain threatened, and that high winds could kick up new blazes by flinging embers far from the heart of the inferno.
The mandatory evacuation zone was increased to 17 miles long and up to five miles wide, extending from coastal mountains north-west of Los Angeles to the ocean. The fire in Ventura and Santa Barbara counties has already
burned more than 1,000 buildings, including more than 750 homes.
One firefighter was killed in action on Thursday and the fire was also was blamed for the death last week of a 70-year-old woman who died in a car crash on an evacuation route. About 8,300 firefighters from nearly a dozen states are fighting this one blaze, aided by 78 bulldozers and 29 helicopters dropping thousands of gallons of water.
Firefighting costs are approaching $89m.
The region has had "red flag" status, signalling hot, dry and windy conditions, for an unprecedented 13 consecutive days. The National Weather Service (NWS) said those conditions would last at least through the weekend. Santa Barbara has received only a tiny amount of rain since 1 October, the start of California's 'rainy season', and is more than 3in (7.6cm) below normal to date.
You may recall that California went through a years-long record-breaking drought until last winter, when
so much rain fell
that its reservoirs filled (
and overflowed in some cases
). These reservoirs
remain full
. Combined with
record levels of snow pack
last winter, the increased precipitation apparently had little bearing on what has been another record-breaking year for wildfires in the state.
There have been more large wildfires in California this month than
in all large December wildfires recorded from 2000 to 2015
. Governor Jerry Brown, surveying damage from the deadly Ventura County fire last week,
told reporters
, "
We're about ready to have firefighting at Christmas.
This is very odd and unusual
." 2017 has been
the deadliest and most destructive year
for wildfires on record in California, and may yet break the 2008 record for number of acres burned.
World-wide wildfires
There were other devastating wildfire outbreaks around the world this year, especially in Europe, where the season average for amount of acres burned
increased at least four-fold
. The worst wildfires hit the Iberian peninsula, where dozens of people were killed amidst high temperatures and the
worst drought so far this century
.
Other parts of Europe, meanwhile, were hit with reverse conditions -
low temperatures and above-normal rainfall - and yet, wildfires raged there too.
A wildfire even burned for weeks in icy
Greenland
, which perplexed scientists no end.
Sott.net readers may recall a
rare winter wildfire igniting in Alaska
last winter, despite there being a foot of snow on the ground. Similarly,
forest fires broke out in Switzerland
... in the dead of winter!
In July this year,
mysterious plumes of steam were observed rising from a Greenland glacier
, a possible indicator of powerful geothermal activity below ground. All the while much of western Europe saw a record cold spring that resulted in
the worst grape harvest since WW2
.
What accounts for this discrepancy between heat and fire? Shouldn't the former strongly correlate with - in fact, cause - the latter?
It must be man-made global warming.
Or is it?
Mainstream media routinely quotes 'experts' as saying that anthropogenic global warming, aka man-made climate change, explains the increase in wildfires, citing specific factors like flaws in zoning and construction laws, or infractions of same, as well as the catch-all scapegoat: 'the global rise in man-made CO
2
'.
The climate
is
changing; it
is
tending towards increasing extremes; and it
is
becoming more volatile, unpredictable, and expensive to mitigate against. But as I've written about before, people are completely overlooking the likely 'arsonist' behind increased wildfires: an increase in outgassing of methane and other natural gases from below:
The growing threat of underground fires and explosions